With the changing behavior of consumers towards the food and beverage industry in the last decade, biryanis and authentic tastes have gained more attention than other American or continental cuisines. The need for a proper biryani POS system for your biryani brand to maintain the recipe and suggest newer changes according to customer consumption exceeds many folds, especially at a biryani restaurant chain. The need for quick delivery for online orders also brings in the major part of revenue, which is why you need to have an integration of all your orders, customer details, in one place.
Benefits Of A Biryani POS To Your Brand
A restaurant management software for your biryani outlet doesn't only streamline operations for your restaurant but also makes sure to increase your restaurant profits. Since customers tend to frequent a biryani outlet time and again because of the quality of food it provides, standardization of the recipe and kitchen operations becomes critical. It is almost impossible to achieve high precision of standardization without a biryani POS.
Along with these, here are some other ways how a biryani outlet can be benefitted by restaurant management software.
i) Quick And Efficient Order Taking
Handling billing, taking orders and maintaining previous records manually could be a nightmare, and may eventually lead to the failure of your brand. Reduced dependency on physical labor also lowers the risks for human errors. This is why you must lookout for a proper POS system if you want to reduce dependency to increase efficiency.
a) A POS Shows You All The Customer Details On A Single Platform:
One of the qualities of a good biryani POS is that it has multiple tabs all at one page, giving you the minutest detail there is. While taking orders, you could see if the customer has ordered before. You can then accordingly upsell the order by suggesting some of their favorite dishes.
You may not need these specific details at once, but they will definitely be your savior in case of growth analysis and sales/profit analysis. These specific details include customer's order details, daily revenue generated, average order on a particular day, your staff's performances and so on. You can use whichever details required in order to analyze the growth of your brand. 
b) Incorporating Online Ordering Through Your Restaurant POS:
A restaurant chain needs to focus on its online orders as it brings the major share of its revenue. Most owners tend to keep the order taking department separate from the kitchen, making it operate smoothly. You can use a restaurant management software with a feature of cloud telephony, allowing a separate call center panel to take orders efficiency.
Talking to a brand executive while ordering your favorite dishes results in upselling and an unsaid customer-executive trust. It is highly undesirable if you call to order for your favorite food and they keep you waiting for minutes and hours. The consumer is mostly lost to another brand in this situation.
The entire situation can be fixed by involving a restaurant management software here, which would ensure that the minute a call is put on waiting, it is passed on to the next available executive till received and the order is placed. You would never miss out on any order this way, and make the maximum revenue.
ii) Stock And Inventory Management
When we talk about biryani, the recipe plays a crucial role. While you're experimenting to bring back the authentic tastes, you need to be on top of your game to beat your competitors. This is where you need a biryani POS software to take care of the daily updates of your recipe in all your kitchens, notifying each of your staff each time it updates.
This ensures that any two biryanis going out of the kitchen on two different days always taste the same. A proper POS not only manages your recipe and keeps a record of the latest ones, but also tells you the estimated cost of each raw material put in that single dish, eventually estimating the cost of your food.
a) Standardization Of The Recipe:
A restaurant management software helps to maintain a standard recipe for each of your dishes, leading to reduces food costs and limited wastage. A standardized recipe leads to a standardized taste for which the customers would come back again and again.
As long as your food is freshly prepared, costs right and is presented beautifully, the customers will want to come back. A biryani POS calculates the most frequent orders of each kitchen and marks it as the bestseller of that kitchen, enabling suggestions to your customers while taking their orders.
b) Menu Engineering Using A Restaurant POS:
Menu engineering is undoubtedly one of the most difficult tasks that restaurant owners need to do. But they don't have to worry much about it now, as they can use POS software to engineer their menu for them. Along with the estimation of food costs, menu engineering also involves around what to name your dish, and how to put it on the menu so that people will want to order it.
A restaurant chain needs to look after its suppliers and vendors in order to function smoothly. Since a restaurant chain may have multiple base kitchens, having a proper POS could manage their stock and supplies both. There should be complete information on how much raw material is supplied or distributed on each day, and how much is wasted of that. Your POS should also be able to tell how the variance that occurs in the data.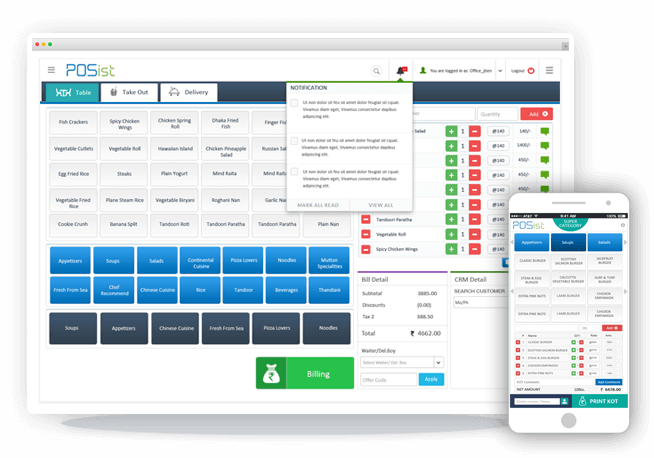 iii) Loyalty program And CRM integration
Decent services and exclusive promotional campaigns for your regular customers attract much more customer retention than any other marketing campaign. They tend to come back to a place where they are valued and served better.
a) Using Customer Data To Run Promotional Campaigns: 
A proper Point Of Sales software clubs in all your customer's data on one screen and automatically updates it whenever needed. As a restaurant chain owner, it makes it easy for you to use that information to send out SMS and emails promoting your brand. Not only that you can also monitor how well your promotional campaigns are working by looking at the number of sales during that particular duration.
There have been examples where customers' information like birthdate, location, and other personal likes have been used to generate customer-specific messages and emails. Let's take a customer's birthday, for example, your POS will be able to give you a list of your most frequent customers and you could run a campaign where they'd get a 'happy birthday' mail from your brand. This increases their number of visits and increases your business many folds.
iv) Reporting and Business Management
From the minute a customer places his order to the time when it's being prepared and the stock is managed, a restaurant chain should be able to analyze all the activities contributing to its growth each day. A good biryani POS enables the integration of customer's crucial information on a central panel and updates it through any of the outlets.
A restaurant chain needs to know which of the outlet is producing the maximum revenue, the profits, and losses from each outlet to make an appropriate growth analysis. It makes it possible for you by making thousands of reports each day related to stock, inventory and the revenue generated.
A biryani POS for your chain can do wonders for you without you having to try too hard. It automatically adjusts according to your needs and helps you monitor your day to day activities, sales, profits and losses all on one screen