A restaurateur and mixologist by profession, Balakrishnan Subramanyan, is known for his extreme interest in the craft and history of cocktails. He completed his hotel management course from the Institute of Hotel Management, Hyderabad and later majored in International Hospitality for his Master's degree. After gaining considerable experience by working in various hotels and bars, Balakrishnan started his bar in 2018 at Koramangala known as The Old Fashioned Bar. He also works as Resident Mixologist at Japan HQ Sakurafresh Beverage & Food which enriches the health of global consumers by offering a wide variety of sustainable beverage and culinary food choices for the present and for future generations. Their motto is Fresh Clean Clear Crisp. It strives to make the lives of the people in the hospitality industry easier providing quality products, preservative and chemical-free (organic).
In Conversation With Balakrishnan Subramanyan of The Old Fashioned Bar
In an exclusive conversation with The Restaurant Times, Balakrishnan Subramanyan talks of his journey in the industry, the story behind his cocktail bar, role of POS software, and a lot more.
An Atypical Cocktail Bar
The Old Fashioned Bar strives to bring home the memories of the classical 60's. This place also runs a coffee shop and a workspace during the day. In the evening, it converts into a bar. Balakrishnan shares that they came up with this particular concept based on thorough market research. There was no coffee shop in that particular street with a co-working space, that is how The Old Fashioned Bar was conceptualized. The ambiance is super energetic which you can enjoy while listening to classic rock to jazz. 
Bringing back the old charm and pub hopping culture of Bangalore, The Old Fashioned Bar is a friendly neighborhood bar that has set the gold standard when it comes to food, beverage, and hospitality, ensuring that you step out well satiated and content each and every time. Adding another dimension to Bangalore's casual dining cum bar scene, The Old Fashioned Bar was featured in the GQ magazine in the section,15 Bars to  Lookout for in 2018. 
What Makes a  Prolific Bartender?
Balakrishnan seems omnipresent in the drinks world. Here is some advice which he would like to share with bartenders:
Basic Knowledge of Beverages:

Without basic knowledge about beverages, a bartender cannot succeed.

Bartending is more complex than it looks, but real pros make it look easy. It is crucial for any bartender to have clear knowledge

about beverages by

studying the classics, brewing new and exotic drinks, experimenting with lesser-known distilled spirits and mixers, and, overall, pushing the limits of classic bartending.

Invest Time on Reading Bartending Books:

 Since the publication of the earliest cocktail manuals, there's been no greater boon for the diffusion of drink-making knowledge than books. Balakrishnan shares that

as you go through this bartending guide, take in as much as you like at a time. Come back to review something or to study a topic a bit further to have a better understanding of the concepts.
Keep it Simple and Straightforward: Craft cocktails are very visual—the color, garnish, and texture of a drink can be just as crucial as its taste. Balakrishnan advises to keep the drinks simple and not complicate it by mixing too many ingredients.


Role of POS software 
 Bars particularly need a POS system that can pre-authorize credit cards, control bar tabs, and track inventory based on drink sales. Balakrishnan has been using Posist at his outlet, a powerful system that can meet the needs of a large bar/restaurant or buzzing nightclub. 
" I have been using Posist Mobile App for going through the insights on a daily basis. The real-time reports, supply chain management are very clear and helpful. The interface is so user-friendly and easy to use, I would definitely recommend this software to others as well," says Balakrishnan. 
Cloud-based POS will not only pay for itself in improved efficiencies, but it will also become fundamental just to know what is going on. The value-added and immediate flow of detailed information about your sales will help you come up with better competitive ideas and then evaluate their effectiveness.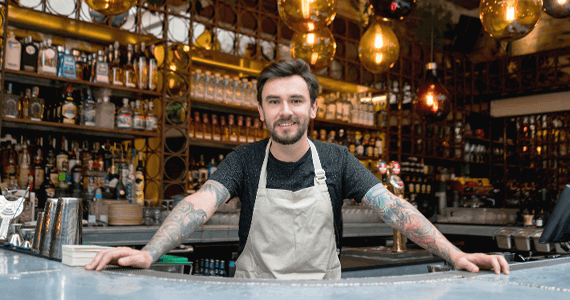 Conclusion
According to Balakrishnan, to stand out from the crowd, one must have a 'wow' factor at their outlet. The key to success is having a USP, which would differentiate you from the competitors. 
Put yourself in the shoes of your consumers. Why would they come to your restaurant rather than visit one of your competitors?
Well, the truth is that if you do not stand out from other local options, they probably won't visit your restaurant. Most importantly, one needs to take good care of their patrons and 'make them feel at home'. 
You need to think hard and long about your place and what makes it special or different from any other restaurant. One needs to articulate the essence of their restaurant, the essence of their offering so that people will know why they should come to your place instead of your competitors. No two restaurants are identical in terms of concept and approach.
Balakrishnan confesses that he loves his job way too much, if not bartending he cannot imagine himself doing some other job!