It's not always easy to carve a niche for a new restaurant in a market as crowded as Bengaluru, India's IT capital. The city is teeming with eateries of all shapes and sizes which serve everything from roadside pakoras to high-end outlets of international brands. However, if one thing is lacking in all the glitz and glamour is authentic Mughlai cuisine – the mainstay of northern India but a jarring gap in the southern India palette. Maaz Ahmed spotted this deficit at just the right moment and decided to go ahead with his lifelong dream of setting up a restaurant by opening Pashto, an authentic Mughlai place in October last year.
How Maaz Ahmad is Carving a Niche for Authentic Mughlai Food in Bangalore
The idea was to serve authentic food with high-quality ingredients in a fine dining environment but at reasonable pricing – a big challenge to live up to.
"We wanted to cater to that demand. We basically want to be the Robinhoods of this business by getting exotic food and providing a fine dining experience while making it accessible to the masses at a very affordable price," he told The Restaurant Times.
It has only been a few months since the shutters were opened for the first time but Pashto has already managed to please customers and repeat sales are on the rise. According to Maaz Ahmad, people are loving the food as well as the pricing which seems to have hit a sweet spot.
"People are loving our food. And people are surprised that at this price they are getting this kind of quality, standard and taste. To provide this kind of service, the fine dining experience, people have to shell out of a lot of money but at our place, the cost is much less," he said.
Standing Out
And what's the secret sauce behind people loving the food so much that has propelled the outlet to great popularity in such little time? One word – homeliness.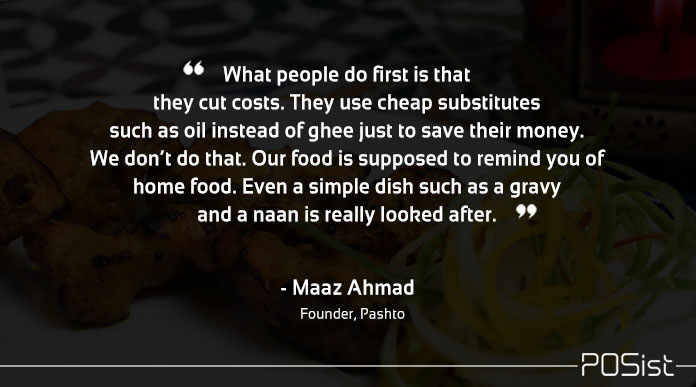 While it's pretty clear that Pashto differentiates itself from others on the basis of its food authenticity, hygiene and pricing, its owner said that the place is actually meant to appeal to both senior citizens and the youth alike who may have different preferences.
"Mughlai used to be the second choice for the youth back in the day. Their first preference was Continental, Chinese etc. Mughlai was when you'd eat with your family but that changed over time. The way we came up with our whole brand and vibrant interiors, it appeals to young people as well," he said.
And it is these interiors that have become a peculiar selling point for the restaurant which prides itself for a tastefully done ambience that starts from its crisp name and leads to Mughal style dome architecture done with a splash of vibrant colours. This ensures a mix of both old and the new, even on the walls.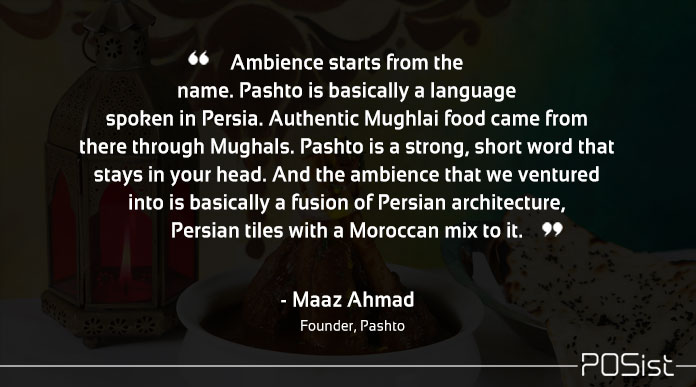 We worked around the Mughal dome architecture. We used it in a quirky way by using vibrant colours," he said.
Early Hiccups
However, things didn't go too easy even for Ahmad who was very clear about his business idea and how he wants to serve his customers.
Pulling customers is not easy, especially in crowded markets like Bengaluru. But, it is this crowd that Pashto went after while choosing the location of his restaurant. Situated in the central Bengaluru, Pashto is witness to heavy crowds ranging from shoppers to businesspersons. For this, Pashto did a market study for more than a year and looked at different sites but ended up settling in Central Bangalore since it's the original city.
"The city has expanded so much in the last decade or so but still, Central Bengaluru is the old city which is like old Delhi. The old city always has its charm and authenticity. There is a good number of commercial establishments in the area so there is a substantial footfall. You are not lost in a residential area," he said.
The second challenge was that of getting chefs who could produce quality cuisine while maintaining its authenticity and keeping waste to the minimum. Ahmad did a careful check of chefs, not just their credentials but their potential too.
"Getting chefs is one of the biggest struggles, I think it's the number one problem. It's a people-oriented business. We knew what kind of food would be served as Pashto. We wanted our Biryani to be the best. We set out and formed a team with regards to their achievement and their experiences, where they come from," he said.
Another well-known fact about the restaurant industry is that the rate of attrition among staff is high but it's difficult to find relevant people in the first place. That's what Pashto had to go through as well and this became the third major challenge.
"I was very choosy with the staff. We wanted a lot of polite staff working for us. We did spend a lot of time on it, in terms of quality staffing. We didn't just look at the experience they had but we also looked at characteristics of people too. We wanted patience in them, politeness in them and that took a while," he said.
Now Ahmad faces the challenge of maintaining the quality on a day to day basis while still not losing the edge over the market. One might get customers in through a lot of these apps, websites and promotions but the whole challenge is to get the customer back again. They have to love your food and service so much that they keep coming back, he said.
Marching Ahead
While Pashto is eyeing expansion in other major hubs of Bangalore such as Indiranagar, Koramangala and Whitefield, the owner is not in any hurry to go ahead with it.
"As of now, of course, we want to expand in other areas but we aren't sure whether we want to do franchising or adopt any other model. We haven't really thought about the route we will take. We will cross the bridge when we come to it. First, we are solely concentrating on this particular place as we are very new right now," he said.
To make sure that everything at the restaurant is prime and proper, Pashto uses a lot of technology and software that allows for regular checks and balances with minimal supervision. Ahmed Pashto said that technology is fast becoming the lifeblood of restaurants in the information age.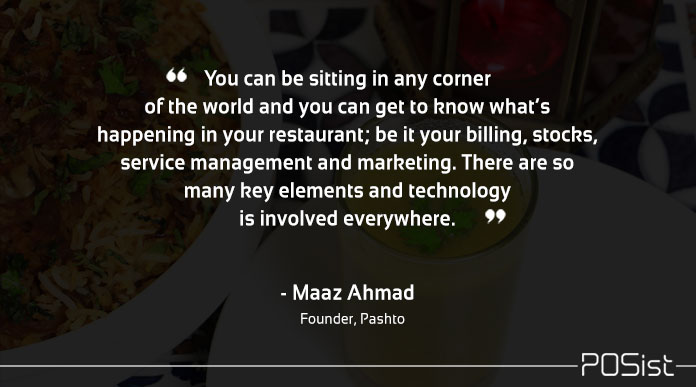 You can communicate day in day out, anytime with your team. With the help of food delivery apps, you can take your good food and deliver it to people in a big circle of 5kms radius," he said.
He further added that marketing is also a function of technology these days.
"Gone are the days when you used to look in the newspaper for new places. Today everyone is on the mobile phone. It's a great marketing tool. We focus a lot on capturing eyeballs through social media. Social media is the future eventually and we use it more apart from the usual offline mediums such as pamphlets, ads in papers etc," he said.