Onkar Samarth has been exposed to the food industry since childhood. His goal was to join the army but cooking was Onkar's passion. He completed his studies from London and worked at ITC Maratha and also, SK Restaurants. His zeal towards this industry, made him start The Bombay Coffee House in 2017. It is a cafe not just for coffees, but also serves freshly baked bakery goodies to some soul-satisfying meals!
In Conversation With Onkar Samarth of The Bombay Coffee House
In an exclusive conversation with The Restaurant Times, Onkar Samarth talks of his journey in the industry, the story behind The Bombay Coffee House, challenges faced while running a coffee house, menu design and a lot more.
Challenges Faced While Running A Coffee House
Coffeeshops have become an integral part of the modern urban landscape. Coffee culture witnessed a boom in popularity in the 90s; experiencing incredible growth that was further boosted by the emergence of the digital age. With food aggregators listing all the cafes, it has become easy for the Millenials to locate the most trending coffee house/cafe with just one click!
While there are many parameters to gauge a restaurant's success, your net profit margin gives you a clear picture, whether the restaurant is going to survive in the long run.
According to Samarth, turnover is a major challenge in coffee shops. Many restaurateurs in the foodservice industry open new cafes and lounges but fail to explore their full business potential.  These cafes usually close down in approximately one year. 
'Patrons like trying out new cafes, so we lose on many genuine customers who get swayed by these cafes,' says Samarth. 
Another challenge is the table turnover time. Maintaining a table turnover rate that is long enough to allow guests to enjoy their dining experience, but short enough to ensure new parties won't wait long to be seated in the sweet spot is difficult. At a coffee shop, the average price per order is usually less, so slow table turnover time affects them negatively. 
The Bombay Coffee House's USP
Your USP is what differentiates you from all the other restaurants out there, especially the restaurants that look, smell and taste like yours. It's the compilation of things that clearly separates you from the pack.
"Cooking well doesn't mean cooking fancy," says Samarth. 
Samarth believes in serving such food at The Bombay Coffee House which can be consumed every day. They were the first ones to do gastronomy in India when it was not even introduced. Their menu caters to the needs of all kinds of individuals, from teenagers to adults. 
Your USP is much more powerful than your brand. Your brand will help you get recognized, but your USP will help get them in the door and keep them coming back for more!
Delivering Exceptional Customer Delight
For every foodservice business, the customer should come first. That means that customer service is something that should be just as high a business priority as maintaining product quality and preserving profit margins.
Nowadays, online presence has become essentially important for any business. Samarth, at The Bombay Coffee House, ensures customer satisfaction by having a personal feedback system from every customer who visits their place. He makes sure that every feedback at all social platforms is answered too. A track is kept on all positive and negative comments. This ensures the customers that you care about them.
Samarth receives a report at the end of the day from the management which primarily consists of details from the customer's end if they face any issue. Consumers always remember companies with great customers service, so it is essential to make it top-notch.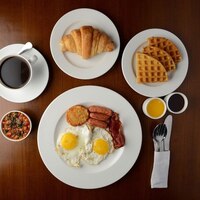 Menu Design To Retain Customers
The food service business is competitive as you have to drive customers to dine and enjoy at your place more than they do in other restaurants. If you are unable to catch their attention, chances are that your restaurant will be closed.
According to Samarth, the menu plays an important role in any restaurant business. Along with the menu, comes the target audience. Initially, they targeted the corporates, but gradually their menu was designed in such a way which provisioned all age groups. A good restaurant menu design is key to any restaurant's marketing plan. When you design a menu it should express your eatery's personality, focuses your overall operations, establishes your budget, and keeps your brand fresh in your customer's mind. 
Samarth concludes by saying that, 'The only way to progress is hard work and giving your hundred per cent.'