Shweta Mehta is currently the Associate Director for B2C Sales at Lo! Foods. Her journey as an entrepreneur started in 2012 with a chain of preschools in Bangalore. She also founded PretiumPro, which was into HR consulting. This is where she got acquainted with Lo! Foods when she helped the brand with their initial hiring.
She eventually joined Lo! Foods as an HR consultant in October 2019 to help them fulfill their human resources needs. Due to her skills in people management and sales, she eventually took over the B2C channel of Lo! Foods. Under her leadership, Lo! Foods has developed a network of over 20 cloud kitchens across four cities today, touching almost 18,000 lives and helping them follow a health-friendly lifestyle.
In Conversation With Shweta Mehta, Associate Director, B2C Sales, Lo! Foods
In an exclusive conversation with The Restaurant Times, Shweta Mehta, Associate Director-B2C Sales, Lo! Foods, highlights the endeavors of her team in creating a line of healthy food products and delivering high-quality, nutritious food items to the end consumers with a lean business model.
Underlying The Importance Of A Lean Business Model
Due to changes in diet and sedentary lifestyles, there has been a dramatic increase in lifestyle diseases such as diabetes, obesity, and cardiac risks. The easiest way to seamlessly switch to a healthier diet is by recreating the range of everyday food products that Indians are used to eating with more nutritious and healthy ingredients. Lo! Foods identified this gap in the market and has thoughtfully created a range of products that offer great health benefits without compromising on taste.
Before venturing into the cloud kitchen segment, the brand initially catered to the FMCG segment. Lo! Foods launched their first virtual kitchen in 2019 and launched another brand within four months of operations. To date, the company has opened over 20 cloud kitchens in Bengaluru, Hyderabad, Delhi, and Gurgaon. Lo! Foods had further plans to expand the business into various markets but had to put them on hold due to the second wave of Covid-19.
With great difficulty, the brand has been able to change the common perception that 'Healthy is not equal to tasty'. The main reason why the brand entered the cloud kitchen vertical was mainly to educate the customers that healthy food can be delicious and exciting. Shweta says that they wanted to keep the model lean and fluid from Day 1. The brand offers a very basic menu with daily food items such as Rolls, Parathas, Gravies, Breads, etc. The product range gained tremendous traction, and the response from customers had been extremely positive.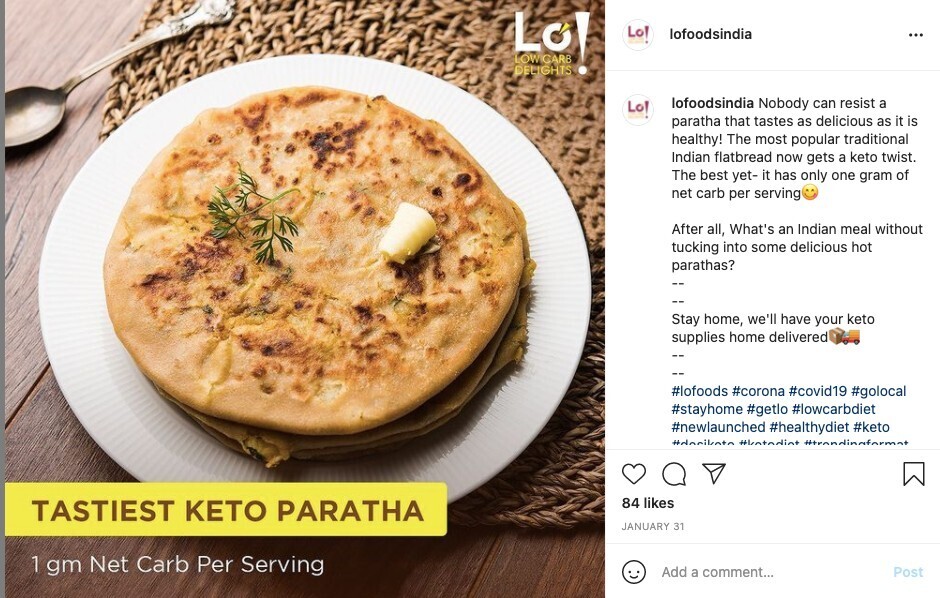 What Makes Lo! Foods An Exceptional Brand
The Indian diet consists of an extremely high component of carbs, mostly driven by grains such as Rice, Wheat, Lentils, and sugar. However, in today's scenario, carbs don't suit a lot of customers.
According to Shweta, the USP of Lo! Foods is the flour that they prepare in-house. This low-carb, high-protein flour is favorable for preparing all the dishes and perfectly suits Indian tastes. The brand's target audience is consumers who have diabetes and followers of specialized diets like the Ketogenic diet, low-carb diet, as well as diet-conscious customers who want to eat healthier. 
Lo! Foods initially also offered its wide range of healthy menu items via third-party aggregators. However, after receiving feedback from consumers about the hassles of aggregator ordering such as high delivery fees, unavailability of riders, or the inability to book a meal prior to delivery time, the brand came up with its own 'Lo! Meal subscription plan'. 
With the subscription plan, customers can receive Low Carb meals on a week-on-week or monthly basis according to their time and preferences. 
The customers do not have to worry about daily calorie intake or keto carb limit as all the meals are designed skillfully by dieticians and nutritionists. The subscription plan is available for keto, diabetic, weight loss, or balanced diet plans.
Learnings and Advice for Restaurant operators
The F&B sector is one of the worst affected sectors by the pandemic. According to Shweta, Lo! Foods' mantra of success has been its lean business model that enabled the brand to replicate quickly in different cities without the need for too many resources.
We find partners who are currently having big kitchens but, due to the pandemic, are not actively operational. Our model is so lean that we can establish a cloud kitchen in literally 100 square feet of space. This way, the expansion also becomes real quick.
Due to extreme fluidity and operational excellence, Lo! Foods has been able to expand to 3 different cities in a span of seven months.
Shweta sums up the discussion with a positive note to the upcoming restaurateurs. 
Focus heavily on the quality of your ingredients. You may invest heavily in branding and marketing, but if the quality of products is not up to it, one cannot sustain the business for a long time. 

Having a lean model in any business, specifically the F&B industry, is what operators must focus on. 

Rely heavily on data. Analyze the crucial touchpoints such as what worked in the past, what didn't. Rectify the mistakes that your brand made in the past and make data-driven decisions based on data and analytics.