Goumtesh Singh aka Joy Singh of Raasta holds an MBA degree in International business. A foodie by nature, Singh loves to explore new places and seek inspirations for his future venture. Despite not being from the F&B industry, he still took a step forward towards food and music which ultimately gave birth to Raasta Cafe in the year 2012.
Raasta has been in trend ever since it started, and has maintained high standards with its supreme food and beverage options, and on the toe staff service. Raasta is a place that gives the same feeling one gets while sipping cocktails in the Andamans or the Bahamas. The appropriate seating and woody interiors manifest the true Caribbean crux of the place.
In Conversation With Joy Singh Of Raasta
Singh has multiple ventures to his credit, Yeti – the Himalayan Cafe and El Posto are both popular brands catering to different segments of customers.
In an exclusive interview with Restaurant Times, Joy Singh spills the beans on his stay in the restaurant industry and how since then things have evolved.
Different Operational Challenges For Three Different Brand Setups
'Be it Raasta (Restro-bar), Yeti (Casual Dining) or El Posto (Patisserie) all these are three different setups, but at the end of the day, the aim is to serve the best to its customers. The primary management has always been the same', says Singh.
According to Singh, for Raasta, managing and precisely handling the bar inventory is a tough task. The menu is one of the best marketing tools; it is one of the first things a guest sees on the website and the same is the case for the bar menu. Plus, monitoring the initial state of the stock is critical. If an account has been entered correctly and all purchased goods were registered in the POS, the actual state must coincide with the inventory situation of assets at the bar, which one gets by physical analysis.
'For Yeti as it is casual dining, training the staff should not be seen as a challenge, but it should be considered as a priority. It is mandatory to know what makes these assistants successful at the restaurant as it is important to look for potential new hires quickly and save time in the hiring process,' says Singh.
For El- Posto being an entirely new brand it will take time to analyze the movement. According to Singh, the bakery business includes large commercial facilities like producing great bread and snack products, as well as small local bakeries that bake artisan bread, croissants, and other pastries. Both types of businesses face many of the same risks, but small bakeries also have risks and opportunities not shared by their larger competitors.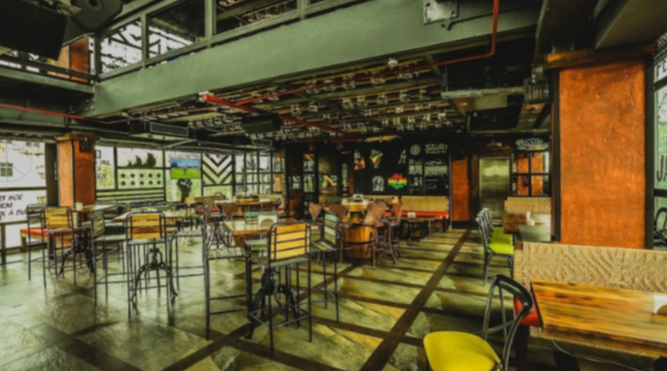 Experience Of Setting Up The Brand In A New City
According to Singh, being a part of the service industry one should never lose opportunities coming to them. Raasta is a music-oriented restaurant, and it promotes different genres of music. After opening two outlets in Delhi, Mumbai was the obvious choice as people there are more inclined to visit places with exciting music and live gigs. Also, the approval of alternative music is a lot more here.
Shifting to a new city and starting up something is a tough deal. The most obvious challenge was finding the appropriate vendors. In the restaurant industry, it is vital to have a good relationship and communication with your food vendors. It is essential to establish a stable working relationship and be aware that the wrong partnership could be dangerous in a new city. Understanding the market and culture is also essential.
Offering A Variety Of Healthy Food Choices
According to Singh, people today, especially the youth are very particular about staying fit and in shape and so patrons have their own choices for selection of healthy food. Recently, customers have started considering healthy meal options at restaurants and keep looking for places with a wide range of menu items online.
When people hear the word 'restaurant', healthy food sound like an oxymoron. But that doesn't have to be the case. Raasta has come up with the keto diet menu, the first-ever initiative taken in the country and it has been an enormous success. Some customers come primarily for the keto diet.
"The new food and drink menu at Raasta symbolizes brotherhood and peace. Even the drinks have a Rastafarian twist to them," says Singh. 
Marketing Dynamics
Advertising is significant for a restaurant, and it is also a big part of restaurant management. According to Singh, before one advertises, one should plan and come up with proper marketing ideas.
Word of mouth marketing is a technique which can never be replaced, and nothing can promote a restaurant better than customers spreading around the good word. Patrons trust what people talk about the brand around them or on social media, this is why word of mouth marketing is the most valuable source of marketing. However, it doesn't stop after just one interaction. You need to engage with customers long after they have left the premises as well to build a strong customer relationship.
Apart from this, social networking is the new feedback form, and with it being rapid and hugely influential due to how far and wide it reaches, it is essential to take steps to maintain your online reputation. 
Importance Of Staff Happiness
Today, it is not only elements like food, ambiance, locality or music that are important, but customers go out to dine for an overall experience, which can only be delivered by having a staff that is dedicated and understands the core belief of your brand.
According to Singh, unless the owner visits a restaurant every single day, there's a good chance that a lot of the staff members will manage the restaurant. The next time when new things are being tried out like promotion, change of decor, or other changes in the restaurant, consider asking the opinions of some of your best employees. They'll feel valued; one does not only have to listen to suggestions but hearing something right, implementing an employee idea will surely help boost morale throughout the restaurant.
One always needs a team of stable, hard-working employees that will make sure the restaurant runs well. Sometimes, the way a person is treated brings out the difference. It is important to recognize this when trying to manage a group of employees. Appreciate them by offering good wages, benefits, and of course, telling them how much they are acknowledged.
Joy Singh concludes by saying that there are two fundamental things required to maintain the standards of restaurants. First is originality. Maintaining uniqueness is essential as it is not necessary that an idea that worked for someone else will work for you too.
Patience is another essential attribute. It is advisable not to change the concept of the brand. If things have not worked for two months or so, one can adapt to changes but never change the soul of the brand. The young entrepreneur also believes in discovering and promoting new talent spread in the country. He keeps on encouraging new talents to come over to Raasta, and grow.