Even with no prior history in the restaurant industry, Dhaval Shah made his way in this industry and was determined to start his own outlet. He was successful in bringing one of the most popular Hungarian street food, chimney cone, in Mumbai.  With waffles, churros, cookies taking all over the place, we have a new guest into the city and that is chimney cones. A chimney cone is also known as Kurtos and Swiss Cake. It is filled with crunchy, savoury and sweet fillings. Dhaval Shah brought a wide range of chimney cones to Mumbai. To elevate the experience, their menu lists 23 types of sweet chimney cones which are moderately priced and 7 types of savoury chimney cones. 
In Conversation With Dhaval Shah of The Chimney Factory
In an exclusive conversation with The Restaurant Times, Dhaval Shah talks of his journey in the industry, the story behind the Chimney Factory, the importance of location, maintaining consistency of product and a lot more.
The Story Behind The Chimney Factory
With more and more people globetrotting and trying out new cuisines and dishes, people are familiar with the dishes and recipes which are made abroad. Keeping this in mind, Shah introduced Chimney cones to the Mumbai population without much difficulty. 
At The Chimney Factory, the chimney cones, which is originally a Hungarian street food, was customized to suit the local tastes and preferences of the people. 
In order to keep the originality intact, Shah never changed the primary product instead played around it. For instance, for savory chimney cones, he added paneer bhurji and chole.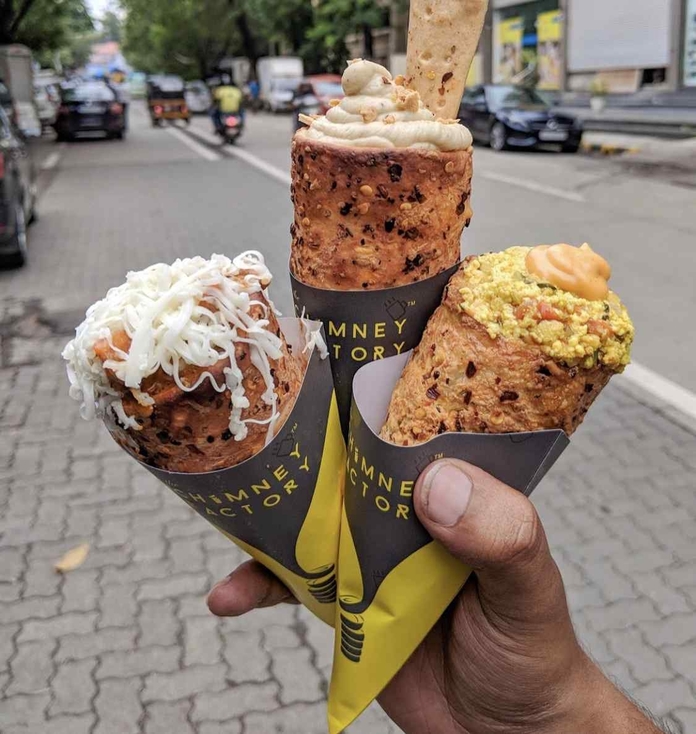 Importance Of Location
The location of your foodservice business will impact its success nearly as much as the menu. If your dessert parlor is in the wrong place, you won't attract the number of customers you will need in order to stay in business. The same is true if your location is inundated with competitors, or has poor visibility, or is hard to find. There are many things that must be considered as you look for a location in which to open your business.
According to Shah, it was a task for him to finalize the location for his dessert parlour. It took him about six long months to occupy that particular location which he finalized. Since he knew the place had a high footfall, it would be easy for the dessert parlour to popularize.  
The real estate available for restaurants in Mumbai is limited, and the rentals are constantly increasing, making it harder for the restaurateurs to break even.
According to Shah, if the rentals are proper, it is easier to expand the business. Opening a restaurant is a financially taxing task, and restaurant business expansion is even more so. The best thing about opening a second or twenty-second location is that you already know how much money it takes to successfully open and operate a new business.
Staff Management 
Running any business, let alone a restaurant comes with its fair share of operational challenges. From deciding the restaurant menu to ensuring a great restaurant customer service, there are common issues that come up for every eatery, whether it's a well-established operation or a new startup.
Efficient staff management means consistently having the right employees in the right positions. Employees who are well-managed and well trained are better prepared to do their jobs and serve the customers. It can lead to better profits, happier clients and an increase in repeat business.
Frequent staff turnover or troublesome employee issues can be one of the more frustrating aspects of managing a restaurant. It's important to keep open communication with all staff about operational issues or concerns so that everyone from servers to chefs, feels valued for their time and talent.
 "Regular training or staff meetings will help all staff feel part of the restaurant team and emphasize the importance of everyone working towards a common goal," says Shah.
Building Customer Trust
Customers like to be able to trust you to deliver a consistent experience. In other words, they want to know what to expect! Consistency builds trust among your customers, creates a reputation, and ultimately, enhances your bottom line. But in today's competitive market and fickle economy, the costs of inconsistencies in a dish or restaurant are higher now more than ever.
With consistency comes dependability, and with dependability comes customer loyalty. According to Shah, the only way to be consistent is, to be honest with the customers. There should be full disclosure of ingredients in the product, right in the menu. It creates an honest brand value for your product. 
Menu Innovation
According to Shah, it is imperative to keep on upgrading every day, whether it is the menu, kitchen equipment, or ambience, as it helps the business to have an edge over others. The menu is one of the most critical aspects that impact the success of a restaurant. 
To maintain profits, a restaurant menu should be updated at least once a year. Analyzing your menu will also help you identify your poor performing items and keep the food costs in check. 
Introducing innovation in the menu keeps the kitchen team excited and creative, it keeps diners wondering what you will do next, and probably most importantly, it keeps your restaurant from becoming stale.