Ankit Gupta belongs to a lineage of hoteliers and restaurateurs and had always wanted to open a brand of his own. Along with his childhood friend Chirag Chhajer, Gupta built Burma Burma. His mother and her family were brought up in Myanmar which had set the base for the early introduction of the exhilarating flavors of Burmese cuisine to Gupta. 
The cuisine in Myanmar has had many influences in India but is very different from the Thai, Indian, and the Chinese food that Indians are familiar with. Myanmar has several turfs from India, including Marwaris, and samosas are a part of the country's cuisine, as are idlis that have undergone several variations. Burma Burma leaves no space for doubt in letting the customers enjoy authentic Burmese food, complete with tea leaf salad and sunflower seeds that are hand-carried from Myanmar.
Bura Burma aims at serving authentic Burmese food to the consumers without any blend. In the Burmese culture, every name is repeated twice. Hence Gupta thought it to be only fit to name his restaurant, Burma Burma.
In Conversation With Ankit Gupta Of Burma Burma
In an exclusive interview with The Restaurant Times, Gupta talks about Burmese culture and food and how he brought Burmese cuisine to India and a lot more.
Healthy Selection Of Food Choices
The demand for healthy food is on the rise, with people becoming more health-conscious lately. Displaying nutrition factors or calorie counts on every menu item and your website can be an effective way to challenge your chefs and also attract consumers. It should be used as an opportunity to discover healthier alternatives to classic dishes or incorporate heart-healthy ingredients into menu favorites. Customers prefer to order lower-calorie foods when calorie information is displayed on the menu.
"Burma Burma is not only vegetarian but 80% vegan, as well. We have a gluten-free list, we only use brown rice and offer a variety of tea. Healthy food works for us, and we are known for our salads like tea leaf salad, raw mango salad and a lot more. There is no use of cheese, and there is no alcohol," says Gupta.
Importance Of Location
Location is one of the most important factors while setting up a brand, and it is the first aspect that decides the future of a brand. Even a difference between a ground floor or second-floor can make a revenue difference of 60%- 70%. So, location becomes extremely important.
Visibility plays a significant role when it comes to the area. According to Gupta, most of the customers make last-minute dining decisions based on what restaurants they happen to see when walking or driving while they are hungry.
Before deciding on a restaurant location, it is important to consider the competition that already exists in the area. A lot of competition is not always a bad thing since it means that the market is healthy. However, minimizing the direct competition is important.  It gets difficult to compete with restaurants that are already established, and that share the same style and concept as yours, mentions Gupta. 
Marketing Dynamics
However good a product is, it will do no good if there is no marketing and is not brought into the limelight. According to Gupta, the initial three months after a restaurant is set is the most crucial time for setting up the brand. If the restaurant doesn't set up a standard in this span, then reviving after three months gets difficult. Hence, it is essential to have a well-planned marketing strategy before, during, and after the launch.
"Brand-building is about filling the void between what you promise and what you deliver. A powerful brand is one that has adjustment between the assurance and execution," says Gupta.
Burma Burma has a lot of tie-ups with multiple media and print partners, and we even have a strong PR marketing team and an in-house digital marketing team as well. We have almost twelve partners through which we conduct our branding. These strategies have helped Burma Burma reach the pinnacle of success.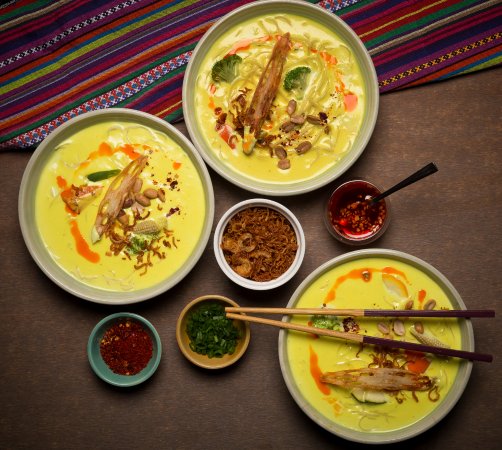 Importance Of Staff Happiness
Keeping your staff happy should be the prime goal not only as a restaurant owner but also as an employer. If your team is not content with the way things work at your restaurant, rest assured it will reflect in their service. Happy and motivated restaurant staff are the ones who go out of their way to deliver impeccable service to customers.
Burma Burma sources a lot of freshers who have a genuine intent towards having a career in the industry and coming from the Taj, the philosophy of service is ingrained in me. I have personally worked as a waiter during my training, and so I do empathize the problems the staff faces. You need to make your staff realize that they are an essential part of running the brand. The HR policies need to be very strong concerning the remuneration and payment. Since we are expanding Pan-India at a decent rate, so there are chances of vertical promotions as well, says Gupta.
Technological Bedding
The Restaurant of the future is likely the most extreme example of how far science has gone to understand the dining patterns of a consumer, food choice, practical design and layout, the influence of lighting on buying and eating behavior, presentation, packaging, preparation, and dozens of other components within the dining experience, says Gupta.
According to Gupta, the most recent and prominent technological advancement in the restaurant industry is undoubtedly the Point of Sale software. It has made things very easy, and everything is streamlined quite efficiently  
Burma Burma will soon be seen in international markets like London and New York as well. We are looking forward to the coming year as it is going to be quite lucrative and exciting for the brand, concludes Gupta.