Smay Thakur always dreamt of opening a food outlet of his own and his love for food and support of friends encouraged him to realize his dream with Amigo's. Amigo is a Spanish word that means 'friends,'. Along with partners Pulkit Kandhari and Kapil Dhama, Amigo's is a cafe run by Amigos and for the Amigos. Nothing is outsourced in Amigo's; everything is prepared in-house, and that is what makes it different and unique. Amigo's caters to the millennial generation, with students being the primary target audience. Pocket-friendly rates and a fun and casual vibe are the USPs of Amigo's which makes it a popular destination for the youth. Amigo's Hub is a one-stop for all the pizza cravings and is also known for its wide varieties of pizza and momos.
How Smay Thakur Carved A Space For The Millennial Generation With Amigo's
Smay Thakur in an exclusive interview with The Restaurant Times talks about his journey into the restaurant industry, and how a small venture turned out to be the most treasured hangout spot for college students.
Right Location Is A Must For Success
Choosing a location for any restaurant is one of the most critical points to profitability. A restaurant's location impacts many aspects of operations, including the menu and style of the dining room.
Accessibility and visibility are two most essential features while deciding the most ideal location, says Thakur. It is important to choose a space that can bring in a great deal of walk-in business while looking for the perfect location. Since the location affects your costs and the also the profits, for a business model like that of Amigo's, student-friendly areas, such as the North Campus and South Campus in Delhi were the obvious choices. 
Amigo's Hub is a cafe with a cover of 40-50, whereas, Amigo's Deli is a takeaway outlet. 'The market is almost same in all the locations, but we use different promotional activities for the outlets,' says Thakur. For a fine-dine restaurant focus should always be on online promotions, but for a takeaway outlet, door to door, promotion is needed, he adds.
Food Has To Look Good To Taste Better
For the millennial generation that takes a picture and uploads it to Instagram before eating, food needs to look just as good as it tastes, if not better. Balancing variety and contrast is critical. It is good to have a variety of textures on the plate, but how the elements and textures are combined is just as important. The first experience of food is always how it looks, says Thakur.
'Modifying, processing, organizing, and decorating the food to enhance its aesthetic appeal is an art and should be given utmost importance.'
According to Thakur, food presentation is all about timing. There is no point in offering guests a fancy dish if it is served cold when it was supposed to be served hot. So it is important to spend time plating a dish. 
'The best dining experiences occur when guests are exposed to the craft of the food. Whether it is providing visibility and clarity to the chef in the kitchen or the artful plating for the guests, visitors will return if they feel their meal was prepared honestly and thoughtfully. Amigo's is very particular about how the food is presented, along with the taste food should always be pleasing to the eyes,' says Thakur.
It's always that "little extra" which you provide to the customers, that changes the game for you.
Flavor And The Menu
While Instagram-worthy food is certainly going to attract the crowd, ultimately it's the food that's going to make them come back. Amigo's offers appetizing food and ensures consistency across all the outlets so that the customers keep coming back. The youth of today is more inclined towards Continental and Italian cuisine, which is why Thakur focused on serving Italian fusion cuisine.
Amigo's mostly serves food which attracts all the food lovers and those who don't shy away from gaining some extra calories. However, considering the growing demand for healthy food, Amigo's has a special menu for those who prefer diet food. According to Thakur, it is important to think like the customers.
'Using high-quality ingredients is essential for providing healthy food. We use ingredients of the highest quality to prepare all our food items,' says Thakur.
Importance Of F&B Cost Control
Food and beverage profit margins are under constant burden from rising costs of doing business and the increased competition. According to Thakur, controlling food and labor costs are two of the most critical tasks for a restaurant owner.
With proper menu engineering, sales estimation, and employee training, a restaurant owner can prevent overspending on staff and supplies and provide excellent quality dishes and service.
Amigo's has a weekly check drive to reduce the chances of breakage or wastage. It is essential to maintain order, inventory and security techniques that minimize food from going bad or being stolen. 'Tracking of monthly and annual traffic to better project demand and prepare for sales peaks is always beneficial,' says Thakur.
He also asserts that restaurateurs should always be vigilant about the portion sizes coming out of their kitchens. 'Every item on the menu should have a controlled portion size to keep the food cost in check. Portion control is also crucial for maintaining consistency in the menu items,' 
Maintaining Employee Happiness
The restaurant staff is the backbone of the business, and it is critical to have a team of well-trained and highly motivated staff to run your restaurant.
According to Thakur, bringing together and hiring the best staff for a restaurant should be of top priority before opening. Once the business expands, and customers start streaming in on a regular basis, then the feedback process becomes essential. The staff should always be motivated and appreciated for the work they do as it maintains their self-worth and value.
Amigo's only hires freshers with basic knowledge about the industry as it makes it easy to train and mold them according to the restaurant's needs. Incentives and perks enable the staff to give their best and maintain consistency in their service.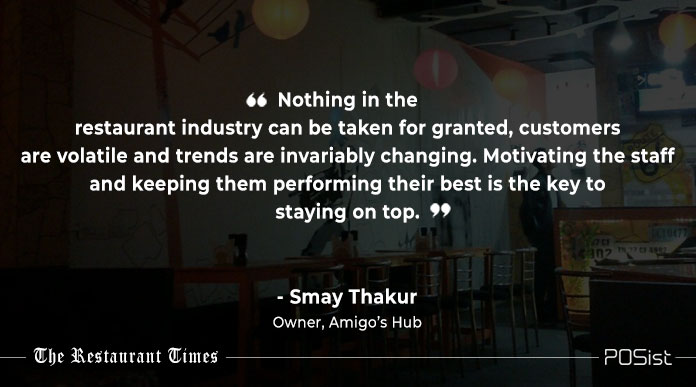 Smay Thakur concludes by saying, 'Running an F&B outlet is a continuous process. It's essential to maintain the proper feel of the outlet; which includes good food, good music, subtle interiors, and quality staff to give the customers the experience they wish for. Success is not all about delivering the best food or providing the best location, but it is about learning how to solve a customer's problem,' 
Talking about his future plans, he says that customers can look around for three more outlets of Amigo's in Delhi early next year.