Theme restaurants have been known to tug at a special place in the customers' hearts. The country capital especially is home to a number of theme based restaurants that see a thriving crowd. Aman Sahani saw the opportunity and launched his very own venture, Dum Maro Dum, a hippie-themed restaurant in the heart of Hudson Lane in Delhi that is thronged by the young crowd. The restaurant is a tribute to the psychedelic era and the hippie culture of the 1960s.
Sahani started his career in the F&B industry with an internship at a 5-star hotel back in the year 2002, continued working with various big brands, and later became a part of their management as well. He has worked as a consultant for restaurants, food courts, catering services and several food festivals including some prominent ones in Delhi NCR.
In Conversation with Aman Sahani of Dum Maro Dum
In an exclusive interaction with The Restaurant Times, Sahani talks about his journey of Dum Maro Dum so far, the challenges faced, and his expansion plans. Edited excerpts…
Venturing into the F&B Space
Having your own restaurant is a dream that many cherish and Sahani's case was no different. He enjoyed eating, cooking, and travelling, and one random day he gave a serious thought to becoming a part of the industry as a restaurateur. Since he was already from the F&B industry, he had a thorough understanding of the business, and these factors propelled him to open his own restaurant. The bonus was, of course, the fact that this industry is a highly glamorous world for the one who can explore it correctly.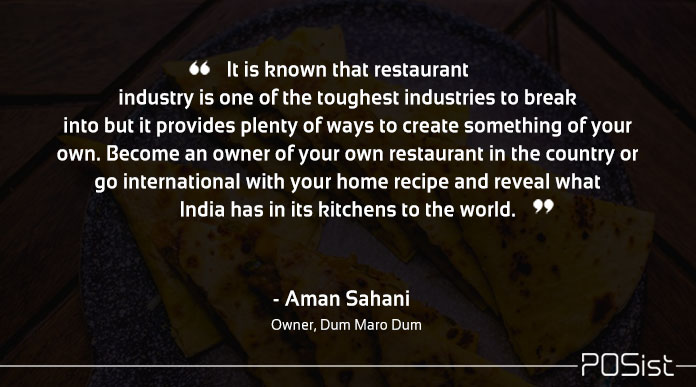 Targeting the Right Audience
Deciding the concept and then developing the brand is essential to the success of a restaurant. That is why Sahani gave ample thought to the concept of Dum Maro Dum. Theme restaurants are already a rage in the country and very popular among the youth who always want to explore something new.  The concept and location were carefully chosen to suit the target audience, which in this case, is the student population of Delhi's North Campus. 
The challenge was merging the 1960's theme with the 2000's trend in a way that it clicked with the youth of the country, and becoming a trendsetter.
"Since I have been lucky to be part of ample restaurants, lounges and clubs in various parts of the country during my total work experience, I knew that the name is the most important thing for a brand to establish itself. It should express the concept and the overall feel of that place. In the back of my head I kept thinking, what does a guest/customer want to see? One morning while having breakfast, I started travelling from 1960's till 2000's in my mind. Suddenly I started humming 'Duniya ne humko diya kya… duniya se humne liya kya' and that was it! That very moment I knew I had got my name 'Dum Maro Dum'. It was very trippy, catchy and killer in the Indian market because that is a very popular movie and song for people of all age groups in India. I knew people would go crazy and get connected with the entire concept in one go. I knew I had everything on my plate with the name which perfectly reflected the concept of the restaurant."
Challenges of Running a Restaurant
Glamorous as it may seem, it is indeed difficult to survive in the throat cut competition of the restaurant industry. Challenges get further multiplied when you look at expansion plans. Some challenges that come before opening the restaurant are finding a good location, arranging for capital, hiring the right and stable staff and of course, licensing. But opening a restaurant is only half the job done.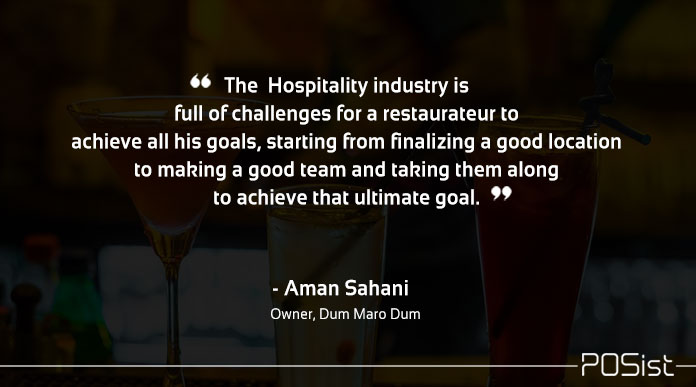 The bigger challenges arise post the opening of the restaurant. Managing your restaurant staff is the most critical part of restaurant management as they are the key players for a restaurant's success. Providing quality and consistent service to customers on their every visit is the secret to repeat business. Managing vendors and supervising the raw material quality is also a challenge which cannot be ignored if you want to ensure quality in your food.
Exploring Avenues to Increase Sales
Food festivals create the best opportunity for restaurants to showcase all their menu products on a bigger scale, tell the audience about things that exist and things that you are innovating and share your upcoming new food menu, bar menu, music policy, ambience or tell about your new restaurant in the city."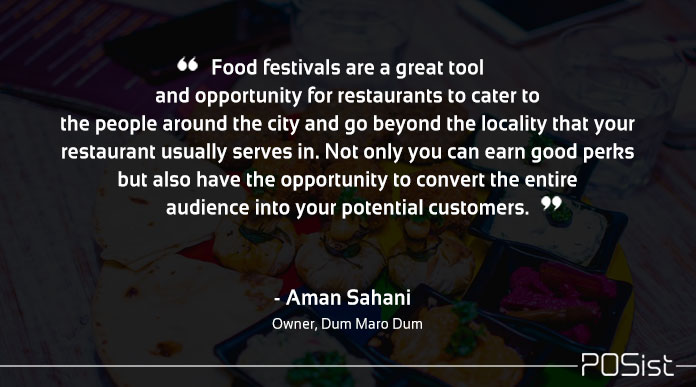 Engaging and Retaining Customers
Once the customers start coming in, the next critical thing to do is to figure out ways to engage with them so that they keep coming back. Sahani talked about innovative marketing techniques to keep the interest of customers piqued.
"There are various kinds of technology available in the market depending on how you want it to be utilised. It's so smart and useful that you can now show your customer in real pictures on a screen how the food or beverage he/she is ordering will look like, the exact way of cooking. It's not just good marketing but can also educate your customers about the recipe, feel, what it looks like and what it tastes likes."
He also emphasised the importance of Loyalty Programs. Although a number of restaurants run loyalty programs and offer discounts to customers to retain them, Sahani mentioned that it is essential to have some sort of engagement with the customers instead of just offering them discounts. This would ensure a permanent clientele instead of just first time customers who are looking for discounts.
Future Plans
Dum Maro Dum is extremely popular among the youth, and it only makes sense to look at expansion plans.
"At present, my sole concentration is on the current outlet of Dum Maro Dum and I am planning to open its 2nd outlet in New Delhi / NCR only by the end of this year. Perhaps there will be 2 more outlets by the next year in Mumbai and Pune,"  Sahani said.
"I would like to run these 4 Dum Maro Dum outlets successfully for an initial period of 3 years, make it a success and then concentrate on a pure veg budget family chain of restaurants in all metro and tier 2 cities across India. I will open the first outlet in New Delhi and then expand to other cities."