Food Festivals have become quite popular in the past few years in the country and have received pretty great footfall. With the fusion of Social Media and Food, the food festivals in India are trending these days and gaining popularity by the second and more and more people are looking to connect to these events in one way or the other. Food fests are the hot new trend in the metros. Find out about more such restaurant trends here.
India has witnessed some great food festivals such as The Gourmet High Street which hosted India's top celebrity chefs under one roof, The Street Food Festival which featured the famous street foods from all around the country and the latest of the festival lot, The Grub Fest Delhi, one of the biggest food festivals in India. Apart from being a food truck festival with over 80 new and old restaurants serving their best to customers, The Grub Fest offered a movie screening each day to its visitors; each movie is related to food and the restaurant industry. It also included a Whiskey Tasting Session, Cocktail Mixology Class, and Live music line-up, giving a complete carnival feel to its visitors. There has been an excellent array of food festival ideas observed in the past decade in India.
Importance Of Food Festivals For Restaurants
Food festivals are an excellent platform for the upcoming as well as the established restaurants to market their goods and display their best offerings to the enormous crowd. It is a great medium to conduct market research and tests for future ideas and dishes.

1. Exposure To Relevant Audience
Restaurant Food Fests cater to a huge crowd which can prove wonders for your restaurant. The footfall is huge, going up to 50,000. Not only you get a vast exposure; the prime audience is the Foodies of your city. Thus, if you make a great impression on the visitors at your stall at the festival, there is a high probability that they would come to your restaurant again.
2. Staying In Touch With Your Competitors
While gaining customers is one aspect of a Food Festival, it also allows you to peek through other restaurants' strategies. Moreover, connecting with other restaurateurs can help in stepping up in the industry. Food Festivals let you interact with a large number of restaurateurs and gain insights about their problems and strategies to overcome them. This aspect of food fests makes them so important for restaurateurs.
3. Customer Connect
Festivals are a sure shot way to make some followers. Talking and connecting to people, especially tourists, and foreigners is a great way to generate word of mouth marketing. No marketing strategy is better than word of mouth and Food Festivals can create loads for you. You can also collect customer feedback and gather some first-hand data for your CRM as well.
4. Initiating Boost
Food Festivals can prove to be a catalyst for new or upcoming restaurants. If you have just opened or are planning to open in the next few months, eyeballs at food festivals will get you a head start that simple marketing just cannot do. Being new or first-timer at a festival can come with a loss of money due to low sales or sacrificing sales at your restaurant to accommodate the crowd at the festival but Food Festivals surely benefit you in the long run.
5. Potential Investors
Food fests for restaurants are not just about gaining customers, but funding as well. Food Festivals are always visited by potential investors or people linked with them to look out for exceptional restaurants to put their money into. If you are looking for an investor, then Food Festivals can prove to be just the platform you need.
6. Publicity
Participating in a food festival gives you the opportunity to piggyback on the event's marketing strategies. Your restaurant's name is publicized by the festival's marketing team in the Press Releases, E-mail Newsletters, Online and Offline Marketing techniques, and other possible promotions. You can also work on your social media platforms like Instagram and Facebook. All of this happens without you having to invest too many PR resources of your own.

Image Source: Facebook/TheGubFest
How To Make The Best Of The Food Festivals
Follow these steps to ensure that your restaurant makes the best of food festivals.
1. Have a Signature Dish
Any dish can become a rage at a food festival, provided it hits the right chord with the customers. Customers love a one-time dish at Food Festivals and it can help you stand out from all the other restaurants. The key to success at a festival is to produce a very buzz-worthy dish and be able to serve it tremendously fast while sustaining consistency and quality. Choose a dish that is easy to recreate and doesn't take up much of your time. Most customers don't care about presentation but want something which will swoop them off their feet.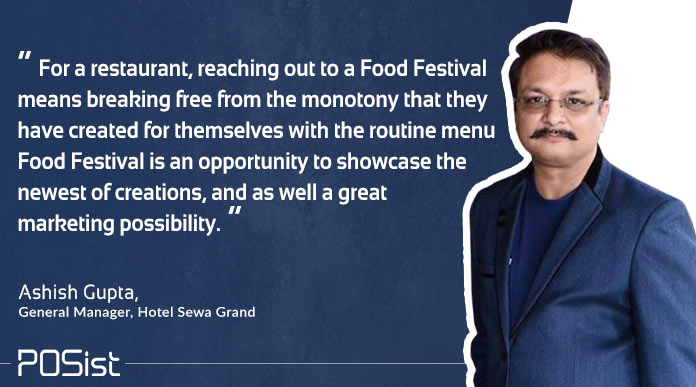 2. Booth Presentation
You will always get a small space in food festivals which are spread in large arenas or a huge area and you need to decorate your booth so that it catches the eyes of the visitors. Innovative banners or games can attract people to your booth. A filled booth will attract other visitors as well, thus making sure your sales are always rolling.
3. Staffing
A festival and a restaurant are as far away from each other as the magnetic poles. A regular waiter of the restaurant might not be the best choice for you at the festival. Look for someone who can quickly process orders, impress the customers, and generate sales at the same time. The employees that participate in festivals need to be good sellers and should have persuading skills. The better your booth manager is, the higher you can expect the sales to go.
4. Interacting With Other Restaurants
This is an all-important step as it can help you in understanding the industry from the people who have been in it for a longer time frame than you. Ask them about their previous festival experiences, where did they commit a mistake and how did they reach where they are. Any small or big insight is always helpful.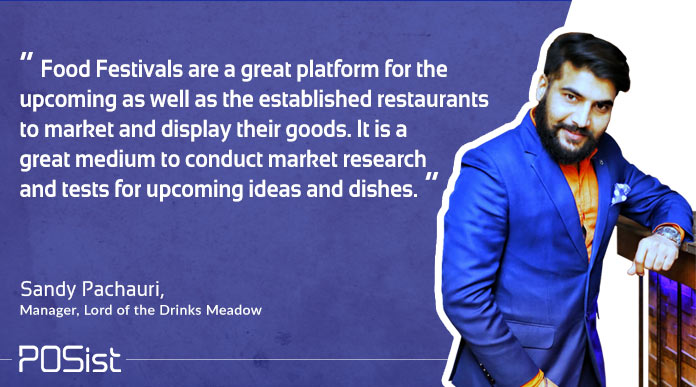 Food Festivals in India offer the customers a lot of options to choose from, at a lot lesser price. As a restaurateur, you have the opportunity to present to the customer your best dish at a decent price so that the customer can decide whether they would like to return to your restaurant or not. With thousands of people visiting food festivals, your restaurant can get the stage which is required to launch or re-launch it in the restaurant industry.
Cover Image Source: Facebook/TheGrubFest