A bar is all about alcohol – from vintage wine, beer, rum to exotic cocktails and many more. The focal purpose of a bar is to provide different varieties of alcohol that the customer desires. For a successful bar setup, all you need to do is target a specific audience through different marketing tactics, emphasize the location and deliver an engaging ambience with every bit of entertainment, music, dance and whatnot. 
This article aims to let restaurateurs know about the equipment and supplies that are must-haves for a successful bar setup. 
14 Must-Have Supplies For A Bar Setup
Here is a curated list of basic items that should be on your checklist when running a bar. Make sure to collect all the necessary barware so that your bartenders can provide a smooth service to your customers.
1. Alcoholic & Non-alcoholic Beverages
The first and the most important element of a bar setup is the drinks. Creating appealing cocktails and mocktails for your bar requires a wide range of alcoholic and non-alcoholic beverages. Some of the most common alcoholic beverages that are a must-have are beer, vodka, gin, whiskey, tequila, scotch, bourbon, and rum. 
Your bar must also have a wide range of liqueurs including amaretto, coffee liqueur, dry and sweet vermouth, Irish cream liqueur, and orange liqueur. 
Mixing it all up with flavoured juices makes the most amazing cocktails. To make cocktails and mocktails, you need another set of party mixers and juices, some of which include, lemon and lime juice, orange juice, cranberry juice, grapefruit juice, pineapple juice, tomato juice, bitters, simple syrup, grenadine, tabasco sauce, etc. 
In addition to this, keep the garnishing ready to decorate your drinks and give them an appealing look.
2. Garnishes And Garnish Dispensers
When making cocktails, one can't forget about garnishes or any other item which can be used for decoration. From the olives in mimosas to the sugar powder coated on the glass edge, the best bars are known for their classy presentation.

Therefore, bars must have ample quantities of fruit garnishes like lemons, oranges, cherries or whipped cream or powdery-crystal garnishes like salt, sugar etc. In addition, they should also have garnish stations or dispensers that ensure easy and convenient service for bartenders. 
3. Bottle Opener & Corkscrews 
No bar can function without a bottle opener; it is undoubtedly the most crucial equipment. You can always prefer a wall-mounted opener because they are hassle-free, quick to handle and won't get misplaced like ordinary openers.

You can also go for quality corkscrews for your bar, which slide smoothly into the cork and pull it out without damaging it. Remember, you can recycle these corks if extracted in an unharmed manner. You can choose from among various styles: waiter's, winged, T-shaped, extractors, etc. 
4. Cocktail Shakers
Cocktail shakers are a must when it comes to mixing alcohol adequately with ice by vigorous shaking. There are different types of cocktail shakers to choose from, namely Boston, Cobbler, and Parisian.

A Boston shaker is a two-part equipment – a glass for mixing and a large tin container. You can add all of them to show the class and variety of your bar. On the other hand, the three-layered design of the Cobbler comes in handy to a newbie bartender while a Parisian is famous for its sophisticated design; it more or less functions like a Boston shaker.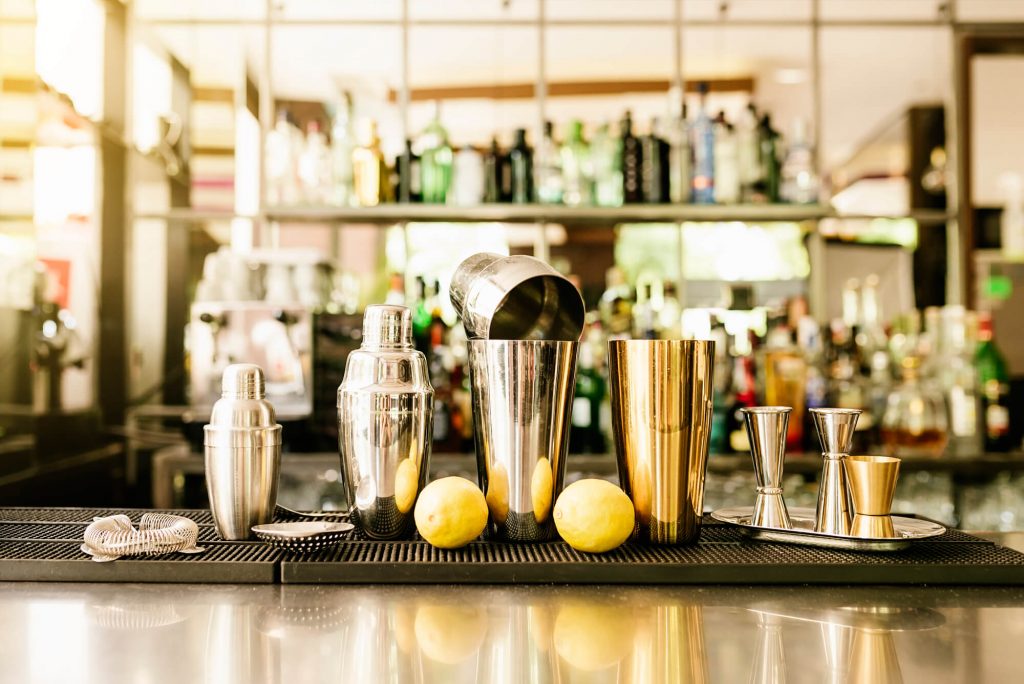 5. Jiggers
Have you noticed the small hourglass-like metal devices? No, they are not to be confused with a shot glass, check out the differences here. Jiggers are basically made of stainless steel used for the purpose of mixing. There are different types of jiggers – double jigger, Japanese jigger and single jigger.

Single jigger is a single bowl measuring tool while a double jigger has two bowls on each side which hold 1 oz and 2 oz alcohol respectively. The Japanese jigger is a sleeker version of the double jigger.
6. Glasses
Have you ever noticed the variety of glasses stacked in a bar? Forget about the drinks poured in these glasses, just concentrate on the aesthetic part and that's the real vibe. Different drinks are poured into different glassware. Following is the list of glasses you should concentrate on for serving drinks to your patrons.

6 inches tall glass highballs are used for catering mixed drinks like tequila. 

Collins, glasses that are similar to highballs, but tend to have a little more height. 

Coupe glasses are used to serve cocktails like Aviation. 

Martini glasses have a triangular bowl, serving martinis. 

Rock glasses are used to offer scotch or whiskey. 

Flute glasses are the fanciest glasses, typically serving champagne and mimosas. 

Shot glasses are used to serve drinks that can be finished in a single gulp.
7. Bar Spoons
Another way to mix drinks is stirring. Bar spoons are used to stir the different contents in order to mix the flavours, giving a better taste. These spoons have a long handle which makes it easy for you to stir the ingredients without breaking the ice or maintain different layers without disturbing one another.
8. Cocktail Pourer
Cocktail Pourer is a must-have tool in every bar to help in optimizing liquor inventory. It provides precise control while pouring a drink. These are some of the most essential bartending tools, particularly used for serving cocktails. Since these are bartenders' most used assets, make sure you grab the ones that they enjoy using the most.

9. Beverages And Beverage Tubs
When talking about setting up a bar, what comes to your mind? Of course, a variety of unlimited drinks. One must prepare a checklist of alcoholic beverages, non-alcoholic mixers and liqueurs and ensure an endless supply. Not just this, also look for beverage tubs, one of the trendiest and in-demand assets for every bar, for customers to draw out chilled drinks without any external assistance.

10. Muddlers
Muddlers are basically the equipment that add more appeal to the drinks with the addition of 'muddled' fruits, spices and other herbs. They are used for a variety of mocktails and cocktails like mojito, mint julep, caipirinha, sazerac, etc. To patrons, nothing is as exciting as an exquisite drink when they enter a bar. So grab on the best muddlers for your bar setup.

11. Rimmers
Rimmers are the best solution for rimming glasses filled with drinks like margaritas, salty dogs, bloody marys, and many other cocktails. The perfect shape of the rimmers makes the application of salt, sugar, lime juice, or cocoa on glass rims so much easier without any wastage of plates or paper towels.

12. Strainers 
Cocktail Strainers assist in pouring drinks in glasses such that no extra particles like pulp or ice pieces end up being there in the drink. They ensure that smooth drinks are served to your patrons. You can choose from a different variety of strainers: Hawthorne Strainers, Julep Strainers, and Fine Mesh Strainers.

Hawthorne Strainers are the most commonly used strainers. They have a metal disc with holes and an attached handle. A metal spring is aligned to the metal disc that assists in catching all the solid particles while pouring a drink. The handles of Hawthorne Strainers are longer than that of a Julep Strainer which looks like a spoon and has tiny holes in it. On the other hand, the fine mesh strainers are the most effective ones for filtering. They are the smaller version of the strainers that you would normally find in the kitchens.
13. Bar Mats
Bar mats have their own importance when it comes to pouring drinks and protecting glassware. What you should look for in ideal bar mats is proper drainage and airflow so that the spillage does not spoil the aesthetics of your bar. Further, it must have an excellent grip to hold the glassware in place while pouring drinks to avoid breakage.

14. POS Systems
The last and the most important thing to keep in mind is to automate your bar using a sound POS system. An efficient POS software keeps track of the bar's sales and profitability. Even though the job can be done with a traditional cash register, a POS system entirely transforms the working of your bar by accelerating bar operations, efficiently managing the patrons, and reducing any discrepancies. Restock alerts are another feature that never lets your bar or kitchen go out of alcohol and kitchen ingredients.

There are numerous things one must keep in mind during a bar setup. It's an endless list and you can fit as much equipment and supplies as you want to make your bar different, attractive, and customer friendly. Use this list to fill your bar up with everything essential. Go for online channels or offline channels to equip your bar with everything that it needs!