Before the coronavirus outbreak in 2020, the UK restaurant and foodservice industry experienced a period of massive growth, and revenues showed an increasing trend over the years. However, the restaurant industry in the UK faced challenges, unlike other food industries across the globe. Even before the pandemic, quite a few restaurants were struggling to survive, and many of them succumbed to closures in 2018 and 2019, a fate that most other restaurant industries in the world faced during the pandemic. Resultantly, gaining a competitive advantage became difficult for every restaurant in the UK.
Rising costs, reduced customer expenditure, and oversaturated market due to the book in casual dining brands in the past years have contributed to the closure of multiple big chain outlets and independent restaurants in the UK. 
With the uncertainty of Brexit and the Covid pandemic that swept the world, the future of the restaurant industry is a little unstable in the current scenario. Restaurant industry revenues were expected to fall by around 33 percent in 2020. With social distancing and general caution in public places, people were forced to dine out less. Compared to 2019, the year-over-year change of seated diners in restaurants in the UK -7 percent on November 23, 2021.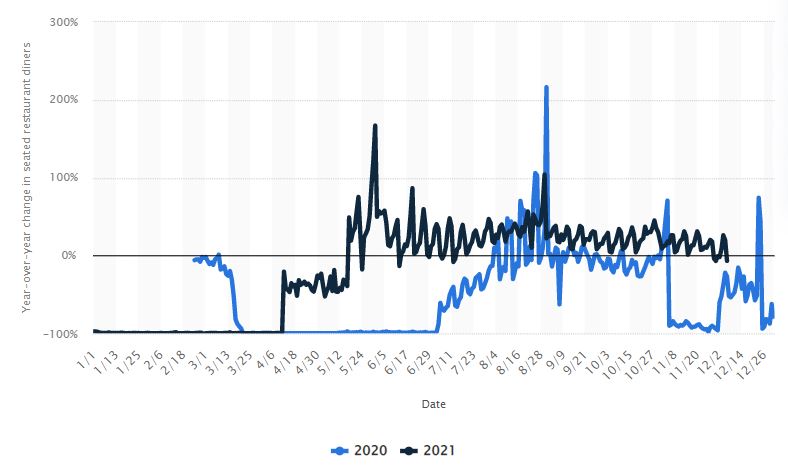 6 Ways To Get Competitive Advantage For Your Restaurant 
Gaining a competitive edge for your restaurant requires a detailed study of the demographics of the location and analysis of your existing competitors. And this is not a one-time requirement. You might be successful initially, but new competitors can always walk in and steal your target audience. 
To make your restaurant successful, make sure you're always on the lookout for successful strategies your competitors adopt and implement them in your business. And for the rest, we have compiled a list of 7 ways to help you boost your restaurant business and get a competitive advantage. 
1. Competition-Heavy Areas Are A Strict No-No 
When you're finalizing your area to set up a restaurant business, ensure that you're setting it up in an area with few competitors that serve food similar to what you're offering. If you have to set up a similar restaurant, do your research well. Visit your competitor restaurants, see what they are doing right, and upgrade your services. 
2. Research The Footfall Of Your Target Audience
Choose a location with a good footfall of your desired consumer base nearby. If you're opening a pub, a residential area with families and young children is not the most suitable location to find potential clients. Similarly, a family restaurant in a location full of offices is not the ideal location for your desired target audience. 
3. Pricing Right Matters 
A restaurant is about ambience, service, and, most importantly, what you're offering when it comes to your menu. A well-designed and crisp menu can increase a restaurant's profits by up to 10-15%.
In order to gain a competitive edge, look at what your competitors are charging for similar items. Although that is usually not the deciding factor, it will help you offer some items on your menu as the star items and perfect them. And for these, you can put a higher price for your most ordered dishes, making you the better choice when compared with other competitors. Simply offering a discount just to get more customers can backfire for your business. 
4. Choose What Category Your Restaurant Falls Into And Identify Its Strength
How does this help? Every category of foodservice has its strengths and weaknesses. It is difficult to set up a business in a completely isolated location. You will always have competition, but it is essential to find out what kind of competition you are up against. 
A supermarket also offers food services for ready-to-eat meals; fine-dining restaurants have expert chefs for a delectable food experience. 
Pubs are among the most popular types of restaurants in the UK. They are a form of casual dining that sells traditional British favourites like fish and chips, Sunday roasts, and bangers and mashers. 
5. Analyze New Competitors And Market Your Restaurant Well 
New businesses are always cropping up, so immediately analyze any potential competitors in your locality. Check what they are offering, stay up-to-date with your service, and always remember to keep the quality of your food in check. You can take care of many things, but that is one factor that can make or break your business. 
Stay connected to your customers, actively take their feedback, and use the proper marketing channels to reach out to them. 
6. Use Technology To Focus On Things That Matter 
A smooth restaurant experience is what every customer craves, be it a pizzeria, a pub restaurant, or a fine dining restaurant. 
A mobile-friendly website and QR codes at the table, which your customers can easily scan to check the menu and pay their bills, are some of the must-haves in this post-covid world. 
An efficient POS system can make your restaurant management and customer experiences friendly and easier to handle. Technology is no longer an investment for the future but a need of the hour. 
It is of utmost importance for restaurants to bring their A-game in these trying times. Known to all of us, the restaurant industry is highly competitive. You will look around and find multiple restaurants with the same concept, theme, and food being served. Gaining a competitive edge is exceptionally challenging; unless you have a star chef, a unique cuisine, or a USP exclusive to your business, you will have trouble standing out from the crowd. 
Given the current restaurant and food industry scenario in the UK, if you can crack the code to get a competitive advantage for your restaurant in the UK, your restaurant business could remain consistently successful.