The art of successful branding is a challenge for any business, but it's even more vital for those of us in food services. Branding a restaurant, no matter what the format or location, is a big part of what sets the business apart from the competition. Branding establishes the personality of a business. Restaurants are often dependent on a mix of quality, uniqueness, and good service in order to sustain and grow their business. Good branding is the art of communicating those values to the diner.
Branding Strategy For Restaurants
To be successful in branding any business, a good strategy is necessary. This is because branding isn't just a one-and-done action — it's an ongoing process that must change and adapt to different circumstances, as well as building up the business in a sustainable fashion. Different branding strategies can be followed depending on the individual type of business, but here are some of the basic steps.
Know the core of your business. Have a written mission statement, understand the values behind your restaurant, and define your target audience. Know what you will provide and to whom.

Evaluate the current market and competition. Running a successful restaurant isn't easy, as any experienced foodie entrepreneur will tell you. With a first-year failure

rate of around sixty percent

, no one can afford to discount the importance of understanding what you're up against.

Define the visual aspects of your brand. This includes components such as color palette to be used in marketing and in decoration, the fonts you'll use for content in menus and websites, the style and content of your images, and important visuals like your

restaurant logo design

. Compile these into a branding guide to be followed for consistency.

Claim your social media space. For any business, it's advisable to start up social media accounts to help build visibility within your local community, create relationships with customers, and establish a stable and reliable marketing channel.

Continually work toward your goals. Restaurants can't afford to stagnate in this ever-changing competitive climate. Always innovate.
A helpful tool in developing your branding strategy is to look at restaurant marketing case studies online and analyze what did and didn't work. Co-opting a branding strategy wholesale isn't the best approach, but since the stakes are high, it's always wise to learn from the successes and failures of others.
While the overall branding strategy for your restaurant will differ depending on your individual circumstances, there are some great marketing tools that can be employed in almost any strategy.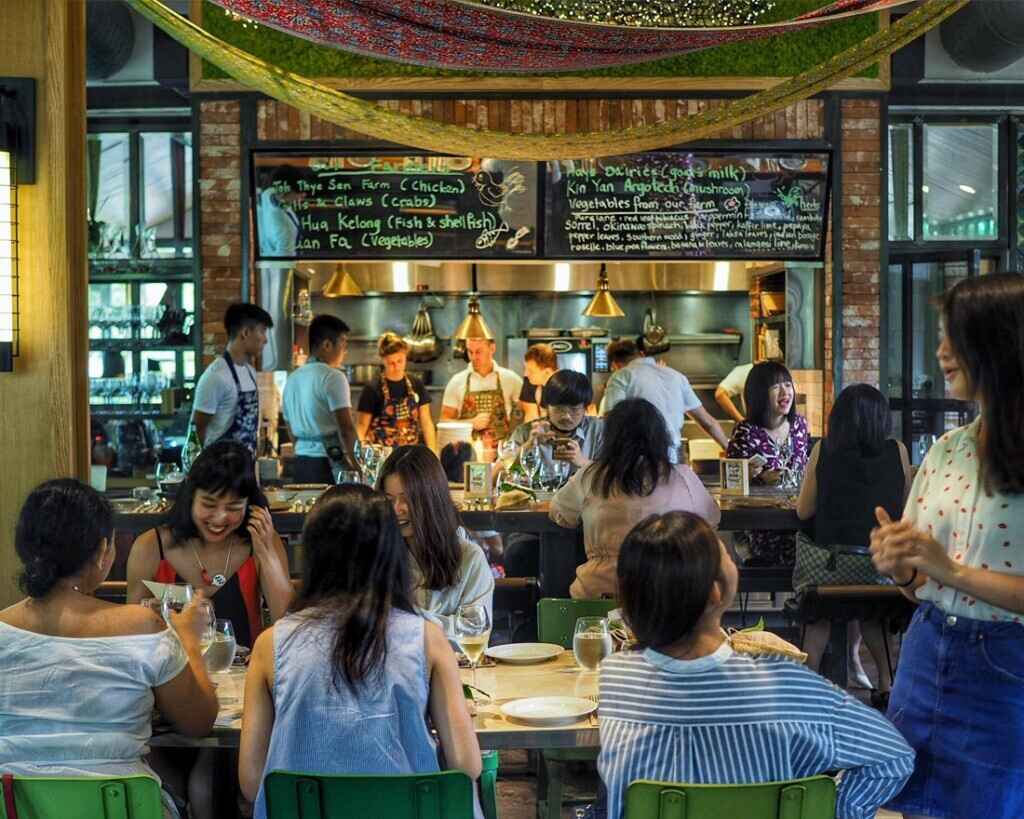 How To Use Marketing Tools for Running Branding Campaigns
The best marketing tools are the ones that can be easily adapted for branding purposes. However, always develop your branding strategy first and then find tools to help you execute it, rather than looking at the tools you've found and building your strategy around them. 
Many of these tools are very simple to use, with a flat learning curve. Some tools, like email marketing and content scheduling, will be used consistently. Others, like some visual design tools, may only need to be used temporarily to achieve a certain goal, like logo design.
The Best Power Marketing Tools For Restaurant Branding
Visual brand development — designing your visuals is a vital step to creating a recognizable brand. Logo design is easy with freelance designers or free online logo creators. You can also opt to engage a professional design firm if it fits your budget. 

Content management system for social media and websites — this tool will help you to manage your social media, blog, and website so you can have a reliable flow of content. 

Reservation and online ordering software — Reservation and ordering software can be a bit tricky, as some are more difficult to adapt to your needs. They also often require upkeep in order to ensure that your options are up to date. 

Online review manager — branding isn't just about the visuals, it's also about customer service and feedback. Online reviews create social proof that your restaurant is customer-centric and professional. . Aggregating your reviews helps you to keep track of what others are saying about your restaurant, show appreciation to your customers, and address any potential concerns. Try tools like GatherUp and Reviewtec.

Loyalty program software — Loyalty programs are one of the most effective ways to build your brand and

create real relationships with consumers, helping to grow your business.

 
What To Avoid When Branding Your Restaurant
With all these tools to be used, you may be starting to feel as though success is guaranteed. But as a word of caution, here are a few mistakes that should be avoided in branding your restaurant.
Don't neglect your customers on social media. You may get hundreds of comments a day, but it's important to respond to each one. Your customer took the time to reach out to you — make the most of the opportunity to build relationships. Depending on how you treat them on social media, customers could turn into brand advocates or your worst critics.

Do update your website and menu as often as necessary. This is a big problem for a lot of restaurants, and it severely impacts their brand and reputation. Refresh your menu and web content regularly to create engagement and drive revenues.

Don't forget the importance of visual creatives. This means everything from your logo design to the photos that you use in your menus. It can be tempting to just assume that the quality of the food is the only thing that matters, but remember that we eat with our eyes first!

Don't forget consistency. Strive for consistency — visual and otherwise — in your establishment itself, on your website, across your social media, and whenever you and your employees engage with the public. This is the whole essence of branding.
Branding a restaurant is an ongoing mission. The tools and tips listed here will help you to do just that and brand your restaurant in the most effective way possible.
This article has been contributed by Betty Wills, a freelance blogger, who loves to explore ideas related to marketing concepts, brand, and psychology.