Not long back ago, there were only two things you had to worry about to build a good restaurant business: good food and excellent service. In simple words, it was an era before Zomato, Foodpanda, Swiggy, Facebook or Instagram existed. It's not been long enough yet, but due to digitization and tech transformation in the restaurant industry, the scenario has changed. To build a good restaurant business there came a third factor… Marketing. A restaurateur could choose to ignore restaurant marketing earlier, but now it's the 3rd pillar of a restaurant's business. Good Food. Good Service. Good Marketing. Together they define a restaurant's success. Here are some restaurant marketing ideas for increasing sales. 
The Evolution of Restaurant Marketing to Personalized Marketing
The transformation was so fast that people couldn't even keep up with it. It began with SMS marketing in 2005. It became the go-to-tool for increasing their sales, but then everyone started spamming their customer by sending bulk SMS every day. To the extent, businesses began buying data and started sending bulk SMS to the external data. It eventually becomes a nightmare for the customer, and instead of increasing their sales, customers started getting irritated.
Then came the email marketing which went through the same journey as SMS marketing. Then came Google Adwords, Facebook & Instagram, etc. The next channel people are eagerly waiting for is Whatsapp for business. These are great restaurant marketing ideas for increasing sales. You can use these sources to help your restaurant grow. 
And the access to these tools was so easy that everyone started doing it. Imagine the plight of the customer, receiving these SMS, emails and seeing those ads from EVERYONE. Nobody cared to understand their customer, a women-centric brand (clothing store) were blasting  SMS, email and showing ads to everyone including males which were not even their target audience. They end up burning money in marketing with no proper return on investment and most importantly customers started getting irritated.
Personalized Marketing to Target Customers Better
To succeed in marketing in 2018, it has become imperative for any restaurant owner to understand their customer and target marketing efforts accordingly. It can be defined solely with the principle of 4 R's.
Right Content

 

Right Customer

 

Right Time

 

Right Channel 
Over the last few years, the implementation of 4 R's strategy for personalization in the business world has become more and more prevalent. From marketing and customer communication to product creation and beyond, it is now the expectation of most customers.
To take a simple example:
Amazon has been personalizing its marketing since, 2012. This shouldn't come as a surprise, but its ability to use data for a customized user experience can't go unrecognized. Amazon uses purchase history and viewed product history to recommend more purchases and all the time emails always use personalization and are targeted to an individual.
It's brilliant to see how they have personalized product accordingly to my behavior; look at what I see when I log into my account: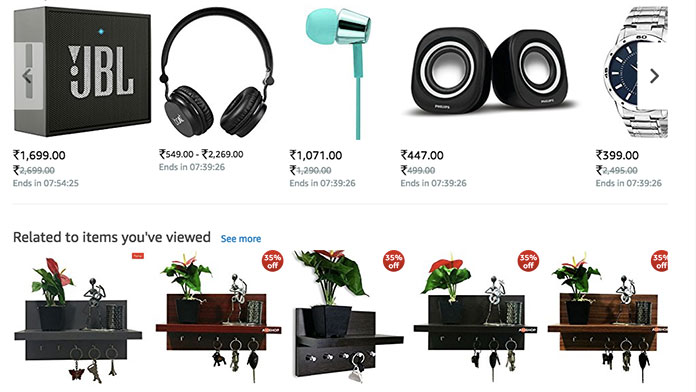 I have just shifted my house and was searching online for a key stand and speakers. That is the first thing I saw every time I log into my account or on Facebook. Amazon has shown that it understands me and it builds trust and saves me time by presenting me things I'll like. This is part of the reason anytime I think about an online purchase, I go there first. 
But how does a restaurant owner understand all this and go about doing personalized marketing? Please note to implement any strategy, and you need to have a good CRM which can help you identify the customer on various attributes.
To achieve a basic personalized restaurant marketing campaign, the following parameters need to be kept in mind:
The regularity of the customer

Day of the order

Spend the capacity of the customer

Visits of the customer

Channel through which the customer placed the order

Time of the orders
It's easier to visualize with the image below:

Let's understand the scenarios:
An active customer ordering on the weekend during evening hour on the website needs to be catered differently from a customer who is At Risk ordered on a weekday during office hours from Zomato.

Customer who had ordered six months back has to be sent a different communication from the customer who had made his first purchase two days back.

A person who always eats North India food has to be sent communication differently from a person who always eats Chinese.

A customer needs to see the offer across channels like SMS, Email and on FB/ Instagram.
Based on the primary parameter above you can reach out to your customer in a minimum of 288 ways. Understanding how a customer interacts with you and planning your campaign based on that can increase your repeat sales by 22% (our customers have actually achieved this number).
There are various surveys/article/reports available online which proves the theory that personalized marketing will increase the revenue. And we don't need an expert to tell us that, it's simple science and human behavior. A customer receiving communication tailored to his/ her need with the all 4 R's being right. The likelihood of getting the order from that customer becomes very high. Up to 10 times higher 🙂
With ever-evolving marketing, it is imperative for any restauranteur to understand their customer and plan their restaurant marketing activities accordingly. Always keep an eye on new restaurant marketing ideas and trends. 
This is a guest post submitted by Ayushmaan Kapoor, the founder at Xeno. He's an entrepreneur at heart, who's obsessed with building a product that'll impact the world. Currently working on 'Alfred- The future of marketing.'