Diners today are looking for a complete dining experience that includes a great atmosphere. A restaurant's ambiance plays an integral role in elevating the overall customer experience. Hosting musical events or live sports screening is a wonderful way of encouraging customers to visit your restaurant more often. But if you are not careful with the licensing and permissions related to entertainment patrons in your restaurant, you may face legal penalties and incur heavy losses. Therefore, it is essential that you consider the legal aspects of broadcasting entertainment in your restaurant and ensure that your restaurant continues to entertain the customers. 
Legal Aspects Of Live Entertainment For Your Restaurant
While creating an engaging atmosphere for your customers with energizing music, live events, or screening cricket matches, ensure that you follow all the legal formalities and procedures. 
This article provides crisp information on legalities involved with obtaining licenses for hosting events and screening live matches in your restaurant.  

Copyright Society
According to the Copyright Act, the primary purpose of issuing a music license to businesses is to protect and safeguard the work of artists. Obtaining a music license not only ensures that the musical work of artist or creator is not stolen, duplicated or repeated without their permission, but also safeguards your restaurant from any legal actions or penalties
The main advantage of the Copyright Society is that it helps consumers to get the licenses from a single place while supporting the owners to maintain a steady track of places where their works are being used.
A Copyright Society has to get registered under Section 33(3) of the Indian Copyright Act. It is valid for 10 years and has to be renewed afterward. The copyright societies not only have the power to administer a license, but they can also prosecute violators against the infringement of the Copyright of its members. 
Music Licenses Required In The Restaurant
Playing music at public establishments, whether it is a restaurant, café, hotel, pub or bar, requires permission in the form of a Music License. 
There are two licenses:
IPRS (Indian Performing Rights Society) 

PPL (Phonographic Performance Limited)
Before you play pre-recorded music in the form of Radio, CDs, Television, and/or Audio-Visuals in your restaurant or café, you need to register with Phonographic Performance Limited India. Also known as PPL India, this is a performance rights organization that has exclusive control over the Public Performance rights concerning sound recorded music. 
For Public Performance License, you can reach out here. 
If your restaurant/cafe/bar/pub hosts live performances where musicians and singers make use of the musical scores and lyrics of songs, you must get a license from IPRS (Indian Performing Rights Society). For the IPRS license; you can refer here. 
Consequences Of Not Getting These Licenses
It is mandatory for restaurants playing pre-recorded music or hosting live performances of any kind to obtain a Music License. Playing music without getting the mentioned licenses is considered to be a non-bailable offense. If you are playing music without getting these licenses, you will be at risk of paying heavy penalties up to Rs 2 Lakhs and imprisonment that may extend up to 3 years.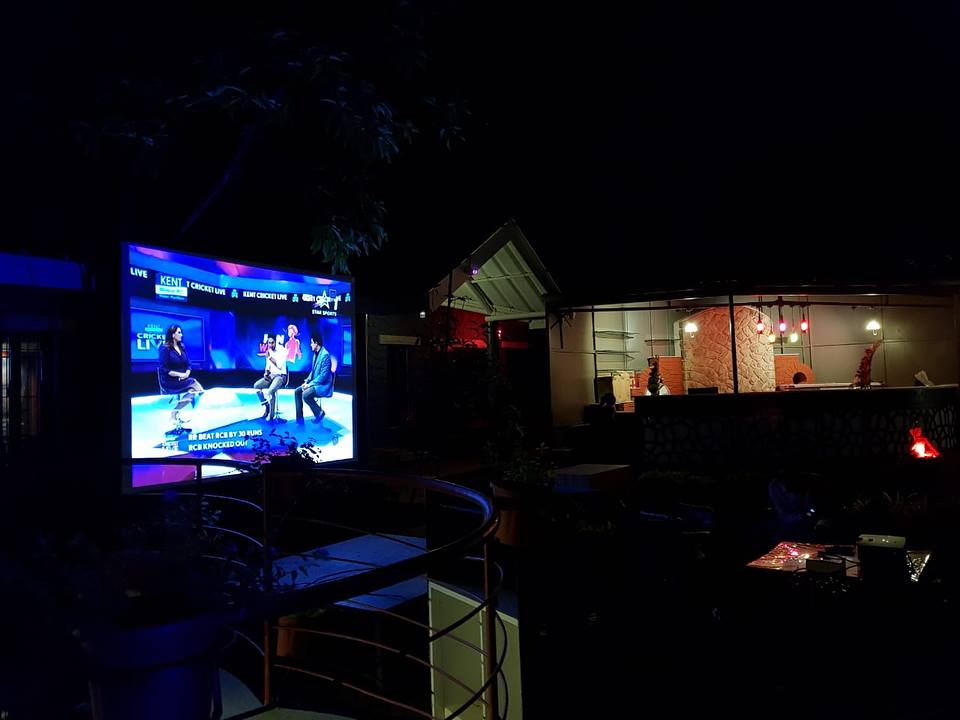 Licenses Required For Screening Live Cricket Matches
Does your restaurant attract a lot of Indian Premier League (IPL) fans? Before organizing a special screening of the cricket match for your customers, be careful to take permission or else you will have to pay a fine. Any establishment including hotels, pubs, restaurants, etc. cannot screen matches without seeking the consent of Valuable Media Ltd (VML) which has the sole rights to screen IPL matches commercially in India. VML is the official distributor for  IPL T-20 matches in India, and it is mandatory for any public establishment to screen such events only after seeking necessary licenses from them.
Consequences Of Not Getting The Licenses
A hotel in Mumbai had to pay a hefty amount for illegally screening and promoting  IPL matches without taking permission from the copyright holders. Apart from the financial impact of a fine, restaurants risk bad publicity and lawsuits if they violate the provisions of the Copyright Act. Restaurants must exhibit matches only after seeking necessary licenses from the concerned authorities
Before broadcasting music and matches in your restaurant, it is crucial first to understand the legal aspects of broadcasting and what necessary steps you should take to ensure that you don't miss out on the critical legal guidelines. Follow these essential steps and offer a mesmerizing experience to your customers.