Instagram is undeniably the most popular social media platform today! If you are not doing restaurant marketing on Instagram, you are indeed missing out on something big.
India alone has sixty-seven million active Instagrammers which makes Instagram a great medium to reach out to more people and increase sales.
Instagram is no longer limited for personal use, but many restauranteurs are taking help of this platform for restaurant marketing. It provides you with an array of tools that can be used for effective marketing for engaging and attracting more customers. 
Simplest Ways To Make The Best Of Instagram Restaurant Marketing
Without a proper restaurant marketing strategy, it is difficult for your restaurant business to stay afloat in the cutthroat food and beverage industry. Instagram is a simple yet great platform to help boost your restaurant's popularity. A well-planned marketing strategy will give your restaurant the right kind of exposure.
In this article, we have listed some of the best restaurant marketing tips that will help elevate your Instagram marketing game!
1. Take Advantage Of The Free Tools
Do not run your restaurant's Instagram page on personal profile settings. Instead, opt for a business profile. It is free and will allow you to use various free tools like analytics or as they call it insights.
If you already have a regular profile, you can easily convert it to a business profile also. 
A business profile would let you add a "call-to-action" button which people can use to interact with your restaurant's page. You can add your phone number that people can use to make a reservation.
You can make use of the insights tools and see who all are following you and also view post specific insights and see how they are performing. This will help give you a clear idea if your ads are engaging and are attracting customers because posting irrelevant content wouldn't help your restaurant business flourish.
2. Post Regularly
Having an Instagram account is not enough. You need to post regularly to make your followers and potential customers feel your presence.
You can tell a story through your posts that would make your feed look appealing and help increase customer engagement.
A great example of an engaging Instagram feed is of Olive bar and kitchen in Mumbai. They have a beautiful Instagram page where they post regularly about an upcoming event or an innovative dish they want their guests to try.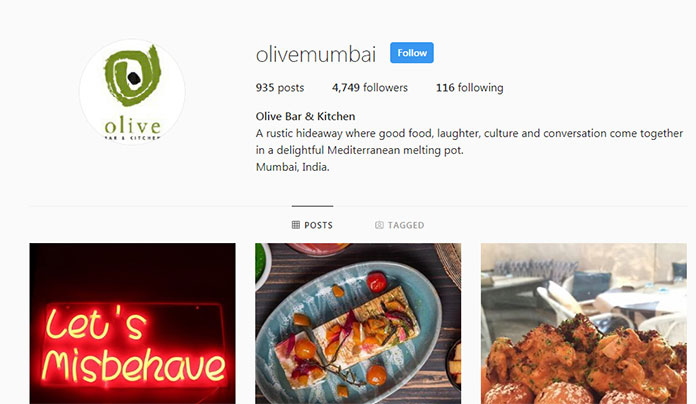 Using relevant hashtags is a great way to create instant engagement. You can create a hashtag of your restaurant's name and encourage people to use it when they post pictures on Instagram.
Every time someone uses that hashtag they are marketing your brand to their followers for free!
Hashtags work very well for increasing the reach of the post. There are many popular food-related hashtags such as #foodporn #foodies #igfoodies etc that you can use in your post. Try to include local hashtags to reach out to the local audience. For example, the hashtag #foodiesofdelhi is typically followed by the people of Delhi.
You can also run competitions based on the usage of the hashtags as this makes the post more engaging. For instance, you can ask people to use the hashtag along with their picture and the post with the highest likes will get a ten percent discount or a freebie the next time that person dines with you.
Creating hashtags is a great restaurant marketing strategy which makes your restaurant popular online by increasing brand awareness and reach.
4. Increase Your Followers
There is no point of posting regularly on your Instagram account if you do not have an ample amount of people to market to. You need to attract enough people who would engage with your posts and bring business to your restaurant.
A great way of luring in more customers is first, by having a detailed bio that talks about your restaurant and its specialty, this makes your page look highly informative, and people might end up following you. Add vital information like your restaurant's address, phone number, website link, restaurant's specialty, etc. as your bio.  Second, you can ask your guests to tag your restaurant's name or use a particular hashtag while posting the images of your restaurant on their Instagram profile. You can use the repost app in order to post the user-generated content on your Instagram feed. This is a great way of making the people feel acknowledged for their efforts and to increase your followers.  
5. Post High-quality Content
Another essential thing to keep in mind is maintaining the aesthetics of your Instagram feed. It should be minimal and pleasant to look at. Post high-quality pictures and videos with a relevant description.
The pictures or videos that you post speak a lot of your restaurant. When someone is going through your feed they should get a clear idea of what your restaurant's specialties are and what they can expect when dining at your restaurant.
If you are looking for some inspiration, you can check out Masala Library's Instagram page. It is a fine dining restaurant in Delhi, and the feed speaks for itself!
This exquisite Instagram page has almost eight thousand followers. Every picture is unique and talks a lot about the restaurant and its style.
Everything from the pictures to the bio contributes to the restaurant's popularity
6. Collaborating With Food Bloggers
Collaborating with bloggers or "influencers" is an excellent way of letting people know about your restaurant through Instagram. If we talk about food bloggers they already have a relevant following of "foodies" which makes it easier for you to reach out to the desired crowd.
You can choose to collaborate with locally famous food bloggers. This will help you attract the local audience who are more likely to visit your restaurant. Invite the food blogger to your restaurant and then ask them to review your food and service.
In India, an influencer can charge you anything from Rs 15,000 to Rs 30,000 for a post depending on their popularity.
7. Replying To Your Customer's Comments
The key to success on any social media platform is engagement. If someone takes out time to comment on your post, you should acknowledge them and post a reply. 
Make it a point to reply to your customers be it a good or a bad comment. Instagram is no different from other social media platforms when it comes to comments. Take time to go through the comments and address the ones that need a reply.
Reading through the comments is a good way of analyzing the behavior of your followers.
8. Running contests
A great way of having people interact with your restaurant's Instagram page is by running various contests from time to time. You can reward the winners with a free starter or a discount coupon for their next visit. Contests are a great way of attracting and engaging more people.
For example, you can ask your guests to post a picture of the food they have at your restaurant and tag your page, the photo with the highest number of likes would be crowned the winner.
Another good contest would be posting a picture and asking your followers to tag two to three more friends who can relate to the post and then you can select a winner randomly.
This is an excellent restaurant marketing strategy if you are looking for more followers.  
9. Instagram Stories
Instagram stories are a big hit amongst users! It is a great way to achieve consistent engagement and an excellent way of promoting your restaurant. If you have more than ten thousand followers on your Instagram business page, you are eligible to show the Swipe Up option along with the stories. You can add quick links to your online ordering portal, table reservation, etc to make the stories actionable. 

It is convenient for the users to simply swipe up and reach their desired web destination.
Instagram stories are great since it helps increase your restaurant's visibility as it is the first thing a person sees when they open their Instagram account.
10. Run Paid Ads
Instagram for Business allows business pages to run ads and boost their post to reach a wider audience. You can leverage this to increase your audience base. Instagram provides targeting based on demography and behavior that will help you refine the audience and ensure that your ad is visible to the right people.
You can define the objective of your ad based on what you want to achieve – do you want to increase the customer reach of your restaurant, or do you want to increase reservations? Based on your objective, you can include a Call-to-action such as 'Book Now' or 'Order Now'.
There multiple types of ads that you can run on Instagram, such as Story Ads, Carousal Ads, Photo Ads, and Video Ads.
Although you can very much manage your restaurant's Instagram account by yourself, it is highly recommended that you hire a social media manager who is adept in managing the Instagram business account, has knowledge of PPC campaigns, and also good at designing.
Try these tips to leverage Instagram as an effective restaurant marketing platform that is sure to help you increase your customer enagegement and brand awarenss.