In the cutthroat world of the restaurant industry, everyone is on a quest to stand out with their offering. While some people do it through their ambience, others do it with their menu and yet others do it through frills around the experience. But, it takes a lot of courage to not go down the beaten path and introduce a whole new cuisine which doesn't really have an established market. This is what Sawan Kukreja and his partner tried to do with Twisted Tacos in 2016 when he started with five outlets in Delhi. The idea was to offer Mexican food such as tacos and burritos at inexpensive prices in the quick service restaurant format. However, not everything worked out in their favour as customers didn't really develop a taste for the Mexican palette and Kukreja saw more downs than ups in his journey. He now stands at crossroads trying to make a last-ditch attempt to make the brand work but will he succeed? 
We caught up with Kukreja for a freewheeling and candid conversation about the bleak struggle between the shiny industry. Edited excerpts:
What was your vision behind Twisted Tacos and how did your journey begin?
The entire idea was to bring Mexican quick-service restaurants to India. When we started in February 2016, there was only Taco Bell and even that was not entirely operating in the Delhi NCR area. We were inspired by the American brand Chipotle so basically, we wanted to bring everything fresh, gourmet, from the best quality products we wanted to bring it out to people for Mexican cuisine. We wanted to offer fresh food to people through our brand.
It was started by me and my business partner. He had experience in hospitality and food industry. I had a business background. It was my partner who had lived abroad, he had travelled to Mexico. He created the menu, he would cook. It was his ideas and his cooking that inspired us to offer it to people. That's always been our struggle that people aren't liking Mexican food yet.
How has the journey been so far and what are the difficulties that you faced?
We thought that there are a lot of similarities between Mexican and Indian palette because of similar spices, ingredients etc being used in both the cuisines. There are many overlaps there. But yes, it's been a struggle. People don't really understand what a taco or a burrito is in terms of Mexican food. But yes, we have been struggling to get people to try it and I think even Taco Bell is struggling here.
It's hard to convince people to try something new which they don't know about.
So top cuisines are Indian, Chinese, Italian, Continental and everything else in the market. People are very close to that. Of course, Mexican is not something people like to try. I guess as QSR, it's way ahead of its time.
People are still willing to try QSRs in Indian cuisines itself but not in other cuisines. We have a presence in Delhi and Gurugram. We had about three outlets in Delhi earlier and now we have one in Delhi, one in Gurugram and a base kitchen.
In food fests, we get a great response. Every time we have done a grub fest or Horn Ok Please, people have loved our food as there they are more willing to try new cuisines. That's why they go out exploring cuisines in food fests.
What do you think you would have done differently to make things work?
To convert it [food fest crowd] is difficult but if we were sitting in Connaught Place or a mall, things would have been different. To get people to come to a market, I guess is very difficult. A lot of these places don't have a lot of footfall in terms of food traffic. As of now, the business is more of delivery than walk-ins.
It'd make sense to be in CP but the rental is through the roof there. It'd be hard for us to come up with that kind of money because the rentals are super high. It has to make sense with the right things in place, everything has to work out at the same time. We started out very small, we were a QSR brand. We didn't have the money to compete with a big restaurant. That's what we are trying to figure out on how to make this model work.
What's the current state of your brand and how do you see its future?
Right now, we are in GK 1 M block market in South Delhi and DLF Phase 4 Gurugram and the delivery kitchen is in Lado Sarai. I'd be very honest, I am not too sure where the brand is going as of now. It's been a struggle, our numbers have dropped. We haven't achieved the projected numbers so we might wrap up the brand. For now, we aren't in expansion mode. We are trying to consolidate most of the things. Compared to the rentals, it doesn't make sense to be sitting in three locations. We have a seating for about 20 people but we aren't able to convert that seating. It doesn't make sense to pay that kind of a rental.
We had one [outlet] in SDA and one in Select City Walk that we had to shut down. We closed them right after demonetisation as things weren't working well in our favour.
Who do you think is at fault here?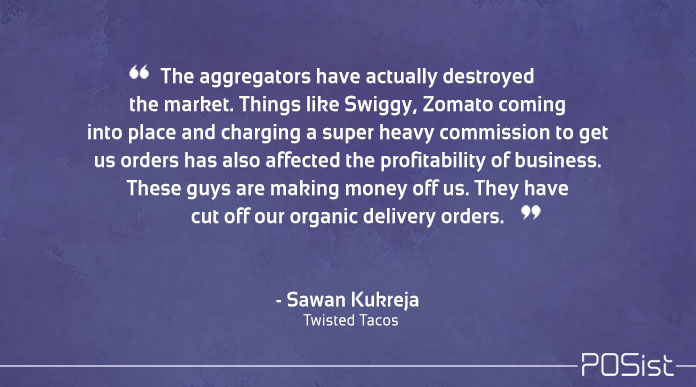 The cost of marketing on Zomato is very high. There are more than 600 restaurants in search results for one locality so you kind of get lost in the crowd, right? So you have to spend money on marketing to stand out which is a big expense.  
The marketing budget also has to translate into new customers but it's not happened for us. That's why I think Mexican food is difficult for people to try as it's a new cuisine which people don't know about.
Delivery options are for someone with 10+ outlets, then only people will come to your website and order otherwise they will just place orders through Zomato or Swiggy where you end up getting lost or pay heavy commissions. But Domino's can achieve it on their own because they have 600 outlets, it makes sense for them.
Is it the location, then, which decides the fate of a restaurant with a different offering?
It's just not the location but also the rental. Your rent can never be more than 10-15% of your expected sale value. For us, it is around 30%. Globally, it has been tried. 15% is the highest you can go and you can't work at 30%. Because we are niche, more expensive than other outlets. We are competing with Subway which is way cheaper and a multinational brand. So obviously you would go there and have that instead of trying a taco or a burrito.
It's a combination of location, rentals and cuisines. Something like Mexican when brought to a city, people don't want it in QSR format. That's what we thought that we would introduce it in a cheaper, gourmet way but people don't seem to want that. I think if we were sitting on the model of Ariba or the one in Khan Market which do Mexican. Because of their high rates, they make it about an experience rather than just about serving food quickly.
What's the big problem in selling Mexican food to the Indian consumers?
You can compare my taco to a subway, we have same price points but subway will fill you up more than a taco. But people don't understand that a subway is all preservatives and processed food while we are giving you all fresh, gourmet food that is cooked and done right in front of you. That is something that people need to understand. I think it will only come with time. For now, there is definitely a struggle in the market.
Mexican doesn't have as big an audience in India, probably not in Delhi. I have heard that Mumbai and Bangalore does really well in terms of sale. There is younger generation there and people are more willing to try. There's a place called California Burrito in Bangalore which has been doing well because they have 13 outlets now. Taco Bell has been there for 8 years. People travel a lot more there because of the IT crowd travelling to America more often. So they relate more to the palette. We were thinking about moving base. In future, we might go to other cities and try it out.
What have you learned through your journey about the industry that you didn't know earlier?
The major thing about the restaurant industry is that it's something which requires a lot more hard work and time as compared to other businesses. It's not like one thing. You are in retail and you are also in a manufacturing facility. It's not easy to be on two sides of the business at the same time. But yes, there are good payoffs if you get the model right.
Biggest backbreaking for restaurants in Delhi is the rentals. That's what happens because the life of restaurant owners is very difficult.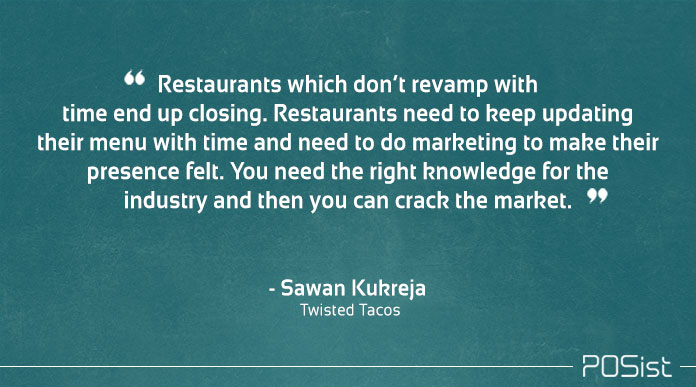 Do you think having a food consultant on board could have helped frame things better?
We actually had a consultant on board. I also think if we didn't have a consultant, we'd have done things better. He made the model too big for us. He designed the kitchen to serve five outlets at once instead of having a smaller set up like one proper outlet which would have been different. The consultant carried us in a direction that didn't work in our favour. Of course, you need a consultant to help you if you aren't from the industry but you can't rely solely on them. They aren't running your business at the end of the day, they are just consulting.
The other problem with this industry is that there is no barrier to entry. The amount of setting up a restaurant is too low. Anyone without a proper background can open up outlets and this was the case with us too.
I realised if I had a background in the industry, I'd have known how things work and I'd have tried to bring things in the right combination. The set up of the kitchen, locations, menu and everything would have been different. I would not have spread out myself too thin and instead gone slow and steady.
Where do you think you went wrong in your assessment of the industry?
Everyone thinks they can do it because there's a cheap way to enter. You can start a restaurant with Rs 10 lakh of capital. But what keeps you going is your working capital, not the starting capital. The working capital is not something a lot of people foresee and that's why a lot of restaurants come in and go out of the market all the time. The main reason is the amount of working capital requirement which is more than starting capital. The expenses are so high that it's a big struggle to get everything right with a funds crunch. In India, a lot of things like chhole bhature will do really well irrespective of the location because there are a lot of takers that. At the same price point, if you can give better quality, you have won the battle.
I'd say that people should their do their due diligence before jumping in. They should have a fair idea about the market they are catering to and the location, as well as the rental, is in tune with your business model. You should not rush into anything because this takes time so if you are struggling, don't expand too rapidly. You need to spend time trying to understand the customers. You need to be very dynamic in terms of updating the menu, pricing and giving a good experience to the customers.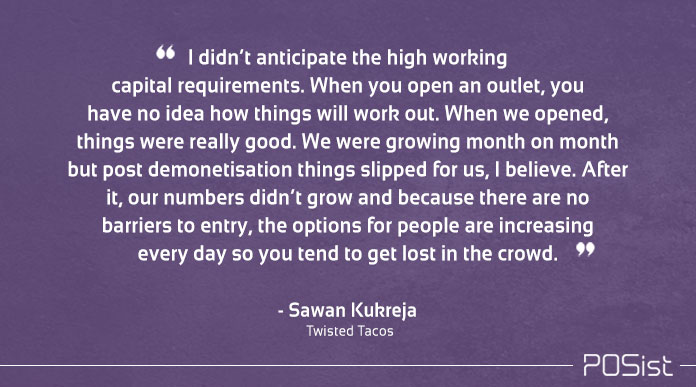 Differentiating yourself in a big market is one of the major struggles. You have to do something that no one else is doing. This was our idea too as we thought that will introduce a new cuisine at a cheaper price point in a different format. There was no QSR for Mexican food in Delhi before us. That was the part we thought we would stand out but that didn't work.
Did you try to use marketing means to increase your numbers? Which ones and what were the results?
We used a lot of Zomato marketing which didn't work out really well. Zomato kept changing their marketing model every two months. Now they have some views based thing in place. We were exclusive partners with them but marketing with them didn't produce results. The amount of money we paid for the highlight on the app was too much and it was not giving us customers also. We also ended up paying Rs 50,000 a month for a billboard panel which didn't increase sales. All these marketing things got diluted with time.
We also got coverage from Little Black Book. When they covered us first, it was a free article but then we paid for a feature article. But earlier they were doing 10 stories a day and now they are doing 100 so you tend to get lost. We also did mass SMS marketing tools and did food festivals also. We used multiple channels including the obvious suspects like Facebook and Google marketing. These tools are all useful but you have to build the right combination because you can't stick to just one channel. If you hire a PR or a marketing agency, they do the work for you but the cost is very high. You need to have the right combination but you can't just pump in money and expect customers to increase.
What role do you think technology is playing in the business and how do you think restaurants should adopt?
Customers have all gone online, they don't want to pick up their phone to call and order. They just want to swipe on apps and tap to order food which means that they are minimising their interaction with the restaurants. With time, you have to be adaptive with these technologies.
Aggregators have made the industry haywire. From the same platform, you can order from a roadside stall to a five-star hotel. They brought everyone on the same platform. Earlier I could order from only 2-kilometre radius but now I can order from 15 kilometres away. That has also diluted the market somehow.
You need to have a good billing software and you need to pull out Zomato and other online orders. Eventually, people will be ordering only through aggregators or websites. No one will want to have a conversation with the restaurant.
As told to The Restaurant Times