"Waffles are the new momos in Delhi," remarked a restaurateur in the business when talking about the proliferation of the Belgian delicacy in the national capital. It's indeed true that the market for waffles is heating up like nothing else the city has seen in recent times since momos took over the streets and it is in this market, brands have to struggle to stand out from the competition which is mostly serving the exact same thing. While some are competing on price and portion sizes, others are simply being innovative with their menu and relying on their quality to see them through this storm. Ramneek Singh of Me Waffle n More is from the latter breed. Singh opened the shutters of his first outlet just six months ago in August last year and he already boasts of eight outlets spread across south Delhi with many in the pipeline.
How Ramneek Singh of Me Waffle n More Is Steadily Creating a Growing Waffle Chain
Although an outsider who comes from the automobile industry, Singh is intent on scaling up the chain of outlets as fast as possible while keeping the quality intact. In a conversation with The Restaurant Times, he spoke about the idea and vision behind the company and revealed that he noticed that there wasn't a good chain offering authentic waffles in northern India so he decided to create it himself.
"I have a very sweet tooth and I love that food so I want everyone wanted to have these nice and delicious products. I wanted to share this joy with everybody and we wanted to have a good place with hygiene. We wanted to offer tasty products that are liked by consumers," he said.
Out of the eight outlets functioning currently, six are owned by his company while two are franchisee outlets. Singh has no qualms about adopting the franchising model this early in his business, in fact, he is excited about it.
He said that franchising is the only way to grow a brand in a very short span of time and much of the growth is likely to come from there for the company but that doesn't mean that he won't open his own outlets anymore.
"It's just the passion and the will to grow as early as possible and to create a brand amongst the youth which drives us," he said. "We are comfortable with the franchisee model as we already have two outlets but we will be opening our own outlets as well. Franchisee can grow a brand at a much faster pace."
Different Stripes
The idea is to offer quality food which is not just authentic but at the same time innovative. Me Waffle n More has some offerings which aren't available anywhere else and that sets it apart from its competition. For instance, one can relish ice-cream pakoras there or the waffle ice-cream pakora – something which is being positively received by the customers who walk in. Singh, however, insists that it's also the standardisation of their food that makes sure that the customers keep coming back.
"Our differentiating factor is the standardisation of all our outlets, the hygiene, the innovative menu which is updated every two-three months. All these things together make for a good product and experience. We have corporate chefs and consultants who are guiding us and this helps us stay relevant in the market," he said.
But it's never an easy task to find these many locations in posh areas and open outlets this quickly. Singh said that he faced some difficulties but he had his priorities right which helped filter the locations.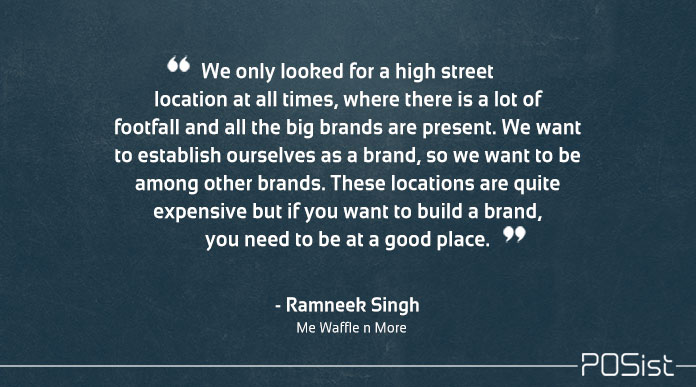 But, is it possible for just the location to carry a brand forward? Not really. Singh said that the menu at Me Waffle n More is constantly updated and new items are added while others are deleted. The whole exercise is based on customer surveys and sales data which offers clues as to which items are selling better and which ones aren't.
"We see customer feedback to see which items are selling and which aren't and at the same time, which can be introduced in the menu and then we monitor their reception by the consumers," he said.
Learning the Trade
Singh didn't stop there. He even went as far as taking up a cooking course and taught himself making waffles just to be sure he knows every possible aspect of the business before he stepped in. And that did keep him in good stead, Singh knew about various problems and issues that he could come across before he actually faced them and prepared well to counter them. One of these strategies was hiring professionals in various aspects and building a solid team.
"Whenever you are doing something, you should know how it's done. It is important so that you can talk to somebody in the right manner otherwise people can fool you because you don't know the technicalities and that's why I wanted broad guidelines and insights," he said. "We have a team of consultants which includes architects, food consultant, manpower consultant and corporate chefs. We want to do everything professionally and that's why we got the experts on board."
After his journey in the business, Singh wants to caution new entrants to not take the venture lightly and focus on all possible business areas before entering instead of hoping that doing just one thing good will pay off.
"The best advice for new entrants to the industry is that you need to take care of all the departments at once and you cannot rely on just one department to do the job for you. The location, ambience, manpower and quality of food are all important," he said.
Making Quick Moves
He added that people need to adapt fast and making customers come back is a big challenge.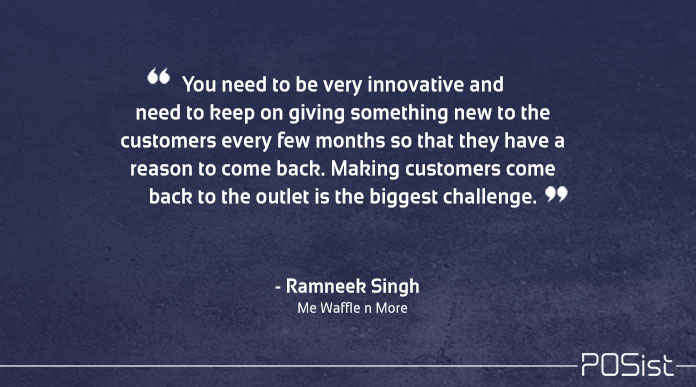 There are a lot of things which can be done. You can differentiate your menu, use SMS marketing, track customer interactions, launch loyalty programmes among other things, he said.
Singh himself is relying on technology to make sure that he is able to bring customers in his outlets. This involves keeping track of their interactions with the brand and poring over the data of their eating habits.
"We check their behaviour and how they are responding to our marketing messaging. We see how can we convert interest into walk-ins by knowing if the customers are coming in once a month or once a week. That way we can plan our promotions as well. And it's all technology driven," he said.
The promotions then involve a lot of things including online and offline mediums as well as mobile marketing.
"These include print ads, pamphlets, small billboards and for online we do Zomato marketing and other internet ads. But, it's too early to say which one is working the best for us as we are still a new company," Singh said.
Even as he calls Me Waffle n More a new company, Singh has his eyes set on a very ambitious growth track and he has a very simple explanation for it: people are loving it!
"We want to do 50 outlets in the next 18 months. There's one coming next month in Mall of India, three more are pipelined. Expansion is the only way forward for us. You can't build a brand from just one outlet. We have to have a presence. We have to be in customers' eyes everywhere they go and then only we can build a bring. If people are loving the product, then why shouldn't we expand?" he explained.