Javed Murad initially embarked on a career in the finance sector, with stints at global organizations including Perella Weinberg Partners and UBS Investment Bank in New York, and Merrill Lynch and Accenture/Andersen Consulting in Mumbai. After moving back home to Mumbai, Murad began months of comprehensive research in his quest to learn more about the nature of the craft beer industry in India, and its viable future.
Murad's passion for craft beer had developed during his time living and working abroad, where the varieties and brands available were seemingly endless. Sensing a possible opportunity in Mumbai, Murad launched White Owl, first as a restaurant in June 2013, before officially turning it into a Brewery in October 2014, and rapidly created a strong brand presence among the customers. Today, White Owl craft beer is available On Tap, in Bottles and in Cans at over 1,500 Restaurants, Bars and Retail Shops across Mumbai, Pune, Goa, Delhi, and Bangalore.
With its recent launch in Delhi late last year, White Owl is already a favorite brand for many popular restaurants and bars such as The Beer Café, The Irish House, Yes Minister, FarziAerocity and Raasta to mention a few. 
In Conversation with Javed Murad Of White Owl
White Owl advocates small-batch brewing of crisp, complex flavors and distinct aromas of beer under the leadership of a highly-experienced & internationally-trained brewing team. In a candid conversation with The Restaurant Times, Javed Murad talks about the growing craft beer business in India, the essentials of running a microbrewery and more.  
Story Behind The White Owl Bottled Beer
White Owl is a Mumbai-based, award-winning brewery renowned for handcrafting beer using the finest natural ingredients from around the world. They are armed with an extensive craft beer portfolio featuring an eclectic selection of old-world and new-age styles. After commencing brewing operations in October 2014 at its brewpub in Mumbai, White Owl now distributes its craft beer on taps and also in bottles at over 650 bars, restaurants, and retail stores across Mumbai, Pune, Goa, and Bangalore with numerous additional geographies in the pipeline.
Following growing consumer demand, White Owl launched its bottled craft beer in Delhi last November, quickly making its way to over 350 favorite bars & retail stores across the nation's capital.
Expansion of Brewery Brands
In this ever-changing industry, brewers must be able to analyze their priorities, in terms of their business model, to the investment community. According to Murad, as businesses scale up in terms of revenue and volume, the operations must be altered to cater to the business demands. This is true for all craft breweries, which are by definition limited to smaller clusters. At the same time, consumers expect consistent innovation in craft beers and brewers must work hard to sustain the loyalty of their consumers with new and exciting products.
According to Murad, premium craft beer is experiencing substantial growth and is considered to have brought about a revolutionary change in the drinking habits of Indian consumers. Experts predict that in the next ten years, India will see a craft beer revolution larger than that in the United States or Europe.  
While there is an array of options available to the urban population when it comes to other premium food products, there is a lack of options in the premium craft beer space, and White Owl aims to address this gap with its expanding operations.  
Bottles & Cans enable White Owl to not only service the substantially larger Retail Segment but also to expand the brand's existing presence within the Restaurant/Bar Space. White Owl has launched its specialty beer Spark at an MRP of Rs. 110 and Diablo at Rs. 130, per 325ml bottle respectively. Additionally, you can now also avail the same styles in 500 ml Cansat Rs. 150 &Rs. 170
The Growing Beer Culture in India
Despite there being a market for beer or craft beer, beer in India is still very underpenetrated. According to Murad, there are a lot of ways in which we can look into the beer market. The Indian population consumes two liters of beer per person, whereas China consumer 35 liters of beer per person. Historically, India has been a country liquor market with a very low number of purchase points for alcohol across the country. So, the consumption of beer comparatively has been low in India. But with rapid urbanization over the last 10 years, the majority of the population under 25 years of age, and a growing number of bars and retail stores especially in India's cities, the trend towards beer is changing quickly.
'I believe that beer represents an incredible opportunity not just in India, but in many international markets as well. There are a large number of options for a typical low-cost, mass-produced beer that will always form the bulk of every market. But in India, there are almost no options available in the premium beer segment where quality and craft supersede the cost,' says Murad.
How the Craft Beer Business Is different from Mass Market Breweries
According to Murad, any consumer brand has its mass market, and the same is the case with mass-produced beer and craft beer. Mass-produced beer is typically monotone in flavor, and they are almost always served as cold as possible. Craft beer focuses on a specific flavor palate. It is mostly served between 50 and 55 degrees Fahrenheit so that the flavors are noticed.
Murad claims that they use only the most ideal ingredients in making beer and grant a considerable time to ferment the beer and let them age naturally. These are the two crucial distinctions between a premium craft beer and its lower-cost mass-produced counterparts.
White Owl competes with everyone who makes beer for urban India. Their target market includes consumers who are currently drinking cheaper, mass-produced beer and are looking to migrate to something better. It also includes people who are drinking extravagant international brands because they can't find anything good that is locally produced.
Not an Easy Ride
According to Murad, the challenges are quite similar to what most startups face. A lack of transmission frequency and bandwidth is the major problem they have been facing. 'We do strive to meet product appeal but have been able to do so until now without any supply interruptions.'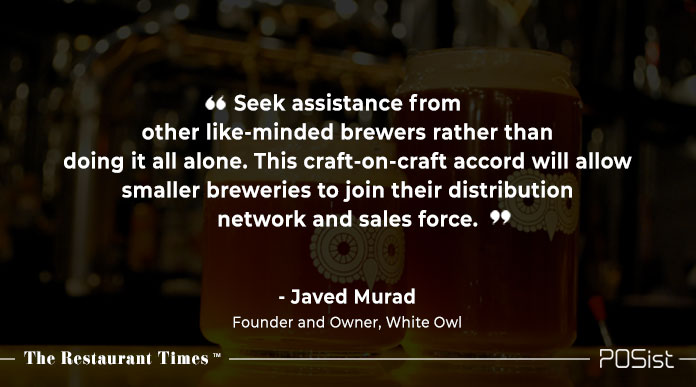 White Owl was one of the first licensed microbreweries in Mumbai, giving them a first-mover advantage in building its brand and reputation for making excellent beer. 'The prominent plus point of starting off in Mumbai is matching up with its elite, hard-to-satisfy consumer. Now that we have done that, we have an incredible amount of added confidence to make our mark across the rest of the country,' says Javed.
Murad concludes by sharing his future plans of expanding the business to new markets and firming up the international expansion parallelly with the ongoing national expansion. By the end of this calendar year, they plan to be present at the most important cities in India as well as three to four export markets. He is confident of increasing the local beer sales to about 50,000 cases per month by the end of this year.