Architaste is a Food and Beverage development company that works with hotels and independent establishments. Based in Dubai, with a presence in London, the company has a global outreach and works across continents.
Architaste is built on the notion that hotels and independent establishments need to rethink their approach to food and beverage to expand in today's market. Founder Christian Abell has worked in the hospitality industry for 30 years, with passion and creativity to a succession of increasingly responsible executive positions. In early careers as a chef, Christian trained under Michelin-accredited restaurants in Europe, ultimately earning honors as Marriott's 2000 "Chef of the Year" at JW Marriott Hong Kong.
During his 22 years with Marriott, he held diverse positions, from Executive Chef and Director of Food and Beverage to Vice President of Experience Design and Regional Vice President of Food & Beverage in the Middle East & Africa. He specializes in the creative design and concept development of restaurants, bars, and public spaces for hotel products of the future. Leading change within hospitality in general, he is at the forefront of trends, style, and innovation within the industry.
In Conversation With Christian Abell, Founder, Architaste
In an exclusive conversation with The Restaurant Times, Christian Abell, Founder, Architaste, talks about the impact of a good restaurant design and how restaurants can make the most of their kitchen operations.
What Goes Behind Developing An Exceptional Restaurant Design Philosophy
During his 12-years stint in Marriot, Christian found his niche in design and restaurant experience while working in the regional office in Hong Kong. He was the head of concept development for the restaurant bars within the Asia Pacific region at a time when Marriott was going through a massive expansion plan. The hospitality group moved into China, India and has been on the stage of developing about 300 different restaurants and bars across the region. 
Upon discussing his 'build a village' sketch, Christian says that people often go for a walk around and experience a destination before deciding where to eat. This is a common strategy that shopping malls use, hence placing restaurants in a prime location.
We should, as restaurant operators, insist that we get involved in space planning early enough to influence the direction of adopting the strategy of combining outlets into a hub. 
Christian says that he's a very visual thinker when it comes to restaurant design. When one has to do space planning for a hotel, one has to think a bit differently about how they function. However, the customer also wants to experience something that's vibrant and energetic. And the way to do that is to bring different aspects of a restaurant together. So when customers come to a restaurant to dine-in, they can actually roll around and have a look. They can have more chances of capturing new areas in the restaurant that can enhance their experience.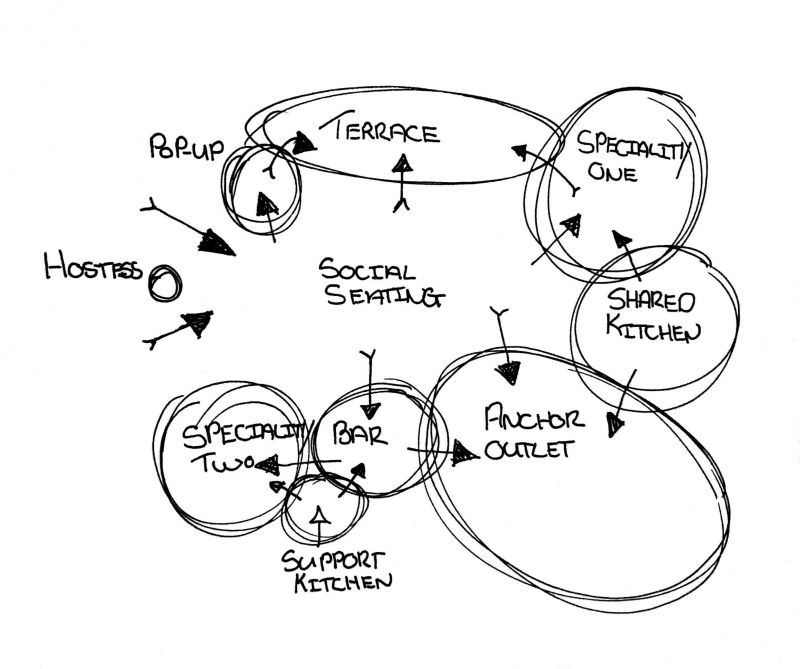 Christian says that every time architects start working on a project, they get a sketchpad and start drawing circles on paper, while looking at connectivity, access, and flow. He advises that before thinking about walls or anything else, draw some circles on paper and just figure out how people will use the space just with circles. Understand how they will flow through space and how the team will look at this in a more efficient way. 
Christian points out that market research is usually the starting point of designing a concept for a restaurant. You can draw circles on paper, but you need to put what the circles represent.
We don't emphasize this enough that we must do the market research first. And I see this as the number one reason why a restaurant doesn't succeed. Just choosing what you like is not really the right approach to a successful restaurant, it really has to be what the community wants and what the market needs. 
Making the Most of Kitchen Operations and Design
Christian believes that technology has significantly streamlined back-of-the-house operations. He says that it is the silent technology that will drive the future of restaurants. 
Some of the great kitchen equipment manufacturers around the world are building Multi-Purpose equipment. These multi-purpose equipment are more efficient, easier to clean, and consume less electricity. Similarly, the paradigm shift from traditional to digital menus has solved many problems that restaurateurs have been facing. 
A significant thing that Christian focuses on is that one doesn't need to have a huge kitchen to create fantastic food, and an efficient kitchen is all that is needed. He says that every hotel company has set designed standards for the size of kitchens to floor space. For some hotels like Marriot, it is 25%. But Christian points out that with clever design, one can push that down to 15 percent. This means smaller floor space, both front, and back of the house.
Explaining further, Christian said, "Another key thing is that the very solid line of front and back of the house has started merging with open kitchens. It's been done too many times, but what hasn't been done is visual storage i.e bringing the food storage, crockery store, etc to the front house." 
Let the customers see all these items stacked on shelves. The idea of having the equipment out front is something I'm seeing a little bit of now. You're really blurring that line between Front of House and Back of House space. So merging the two I think is definitely something of the future, making kitchens smaller and more efficient. 
A concept in Washington DC called Minibar engages its diners in a unique one-of-its-kind experience.  Everyone dines in the kitchen and sits at the bar, and chefs are super engaged with the customers. The restaurant has been around for a while now but still does well, simply because of the idea of engaging with the chef, being close to the kitchen team, and the ability to customize your meal in real-time.
The Right Approach to Deal With Employee Attrition
While discussing the high attrition rate in the restaurant industry, Christain highlights that restaurateurs need to think differently about hiring employees. 
"What I think we need to do, first of all, is to look at what we're paying," he said. 
"Secondly, treat the associates and the staff that are working for us very differently and build that relationship with them. Let them feel that it's their restaurant."
"Third, it is important for every restaurant and every associate in that restaurant to know their break-even point. Basically, analyze how many customers need to walk in the door before a restaurant starts making money because a lot of components such as food costs,  beverage costs, heat, light, and power are involved. A lot of people seem to have lost confidence in the industry, and they've moved on. I think this is the kind of approach restaurateurs should take moving forward", Christian said. 
Advice to Upcoming Restaurateurs
Don't enter the restaurant industry with the thought of making money. That would be purely delusional. If you're really passionate about pleasing people, serving great food, and being hospitable, then this is the right place for you. 

If you manage to put your best into the business, then the revenues, profits, and everything else that comes with that will come along your way. 
Watch Christian Abell in an exclusive F&B Talks Session With The Restaurant Times.