For a restaurant business running across four generations and more than seven decades, Kake Di Hatti has come a long way. What started as a small shop in Old Delhi's Chandni Chowk area with just three offerings on its menu is now a stalwart on Delhi's streets and a household name when it comes to good quality vegetarian food.
Best known for its speciality naan that spans 16 inches in diameter and half a kilogram in weight with 24 different stuffings inside, the restaurant chain has made a name for itself over the ages due to its consistent quality. As of now, it's in the hands of Angad Singh and his father who look after the three outlets together — one each in Chandni Chowk, Vijay Nagar and Netaji Subhash Place in Pitampura.
In Conversation With Angad Singh of Kake Di Hatti
In 2013, Singh inherited this business from his family just like his father and grandfather did. Since then, he has looked after the two outlets in Vijay Nagar and opened the outlet in Netaji Subhash Place in January 2014. According to him, what sets Kake Di Hatti apart from all other north Indian restaurants is that it stood the test of time and didn't change its concept while others run towards innovation.
However, the description has suddenly changed. From being a real dhaba in Chandni Chowk in the 1940s, it has now become a "modern dhaba".
As of today, the menu has expanded from three offerings to over 150 things now and the Chandni Chowk outlet has sprawled into three floors with the ground floor dedicated to the kitchen.
"My father took over the business in 1983, he was just out of college at the time. Since then, he has been running the show at Chandni Chowk. We have expanded that shop to the first floor, ground floor. It has become a huge outlet," he said.
Singh studied computer science engineering and did his MBA from Narsee Monjee Institute in Mumbai before joining the business so he comes from a tech and business background that he claims allows him to think critically and objectively about the business' expansion and growth in the coming years.
What's most interesting about Kake Di Hatti is, however, the fact that no one including Singh knows when it was actually started. There are no documents before 1942 showing its existence and the 1942 document only says that the restaurant paid sales tax then clearly implying that it existed before that. And anecdotal stories from Singh suggest that it existed in a much more trying environment than now.
"I have heard this from my grandfather that paneer, milk, and maida used to be sold through licenses. You couldn't buy these just off the market. At times, you'd have to buy them in black," says Singh. 
Carrying the Legacy Of Kake Di Hatti Forward
But how is it that a restaurant that exists from 75 years has only three outlets while new entrants have expanded much more rapidly? Singh doesn't have a concrete answer as to why his father didn't open more outlets but he said that he has concrete plans for this and the coming year to expand the reach as well as the visibility of Kake Di Hatti.
"It's true that we have been running the brand for 70 years. But I don't have an answer for why my father didn't expand the chain beyond just three outlets in all this time but it's true that since 1942, the Chandni Chowk outlet which used to be a rented one on pagdi system has turned into a complex comprising seven shops that we own now. That is also good progress, I think from one rented place to owning seven places," he said.
Singh further laid down his plans for the coming year as he plans to open at least two more outlets and enter the ready-to-eat food segment as well with the outlet's signature curries which will be manufactured at a factory with half of them supplied to outlets and the other half packaged to be supplied in stores across the country.
"Definitely expansion plus getting into ready-to-eat food is the main priority. What we are planning for the next year is that we will push into a factory based mega kitchen system where we will manufacture curries and bread. We have the expertise to make these dishes but we will hire a consultant to help us with packaging and preservation of these items," he shared.
If expansion is on their mind, why not go for a franchise model? Singh feels that the company is not ready for that yet.
"I personally don't want to go for the franchise model as of now. I feel we have to reach a potential where we ourselves can handle at least 4-5 outlets in Delhi because we know which pockets have that demand. Also, we need a mega kitchen kind of place to supply to those outlets and that's also still in the pipeline," he said.
He also said that he cares about the brand image which could be diminished if the franchise doesn't work for even one outlet. Both things will happen parallelly and then only franchise can work.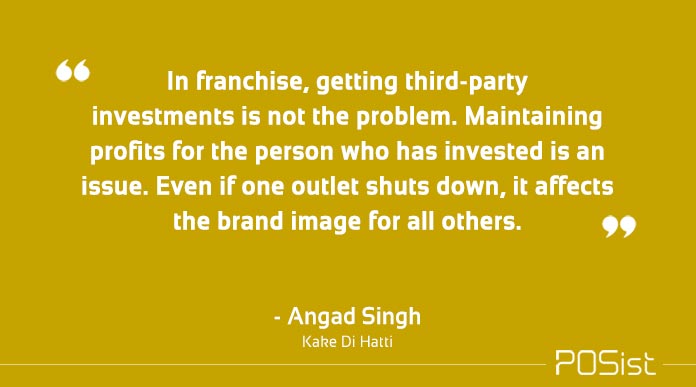 Listening to Customers
Be it the location, ambience or even the menu, Kake Di Hatti thrives on hearing what its customers have to say and then acting upon those insights. This is how the menu has evolved over the years — from customer feedback as well as demands of certain clients to innovate which led Kake Di Hatti to push the boundaries.
"Customer feedback is the main reason for the change in our menu. Once NDTV interviewed us at Chandni Chowk and the person interviewing said they wanted naan which has methi, palak, dhaniya, pudeena and paneer. Basically, it had to be green. The term hariyaali naan was coined at that time. Another person comes in and people would ask for cheese garlic naan and when we tried it ourselves, we saw that it was tasty and it could sell," Singh said while describing how they came up with different kinds of naan out of customer demand.
Singh soon realized that listening to customers can also help in deciding things as critical as the location for the next outlet. Apart from studying pockets of Delhi separately where he felt that there is latent demand for vegetarian food, Singh also sent out feedback forms with each bill from the Chandni Chowk outlet which asked people to suggest possible locations for the next one and the responses guided their decision.
I realized that most of North Delhi residents are basically generations of those who shifted from Chandni Chowk and other old Delhi places. It was a big step because we are competing with Haldiram's in the same place. People were questioning the decision but it was a compliment to us.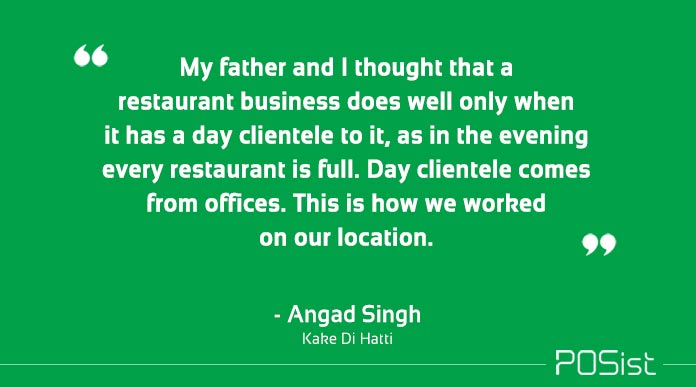 It was listening to customers that also led Singh to make a big change in a new-fangled outlet at Netaji Subhash Place in the first month and a half of its opening.
"The place was beautifully decorated with wall hangings and I had turned it into a fine-dining place. Within a month and after hundreds of customers' feedback, I changed the furniture and got back the look of Chandni Chowk because everyone who would come would say that the food is good but the feel of Chandni Chowk is missing. I changed my expensive furniture and put stools and tables," he said.
He also added that appearing like a fine dining place from outside makes it look like an expensive place which doesn't go with the overall image of the chain which is supposed to be pocket-friendly.
Wisdom From a 75-years Old Operation
While it may seem like easy sailing for an operation that's been around for decades and has made a name for itself in the industry, Singh reckons that there are plenty of challenges that he has to deal with on a day to day basis.
The first big challenge is the high attrition rate of staff as in every other industry in the hospitality sector. The people employed by Kake Di Hatti are often uneducated and migrants to Delhi and they go back to their native places and don't come back without notice putting a spanner in the wheels of the operation.
He added that the second challenge is of integrating technology because pen and paper don't work anymore for a large operation.
Technology integration is very important now. Our forefathers used to work with pencils but now we need technology in stock as well as billing.
But being in the business directly and indirectly through his family has also taught him a lot which came useful not just for him but applies to other entities as well.
"Essentially I discovered that you cannot market the brand unless you are checking the boxes to ensure that you are delivering the product right. For example, you come to my restaurant and you are not giving me a four out of five or a happy rating then no matter how much money I put in boards, branding or marketing etc, I won't see good sales," he said.
Singh said that it's because word of mouth runs this business.
In terms of advice for those entering the business, he said that location should be chosen in sync with the market demands.
"For example, you can't open a Haldiram's at a place where the non-vegetarian crowd is more. Secondly, the launch has to be a red carpet event. It has to be grand be it through newspapers or any other marketing," he said.
Singh stressed the importance of marketing and said that social media is emerging as one of the best ways to bring customers inside the door apart from the mainstream mediums and Kake Di Hatti utilizes a healthy mix of everything.
"We were associated with a company who used to do social media with us but we didn't renew their contract this time. However, we do use a lot of other marketing tools such as pamphlets, ads on Swiggy and Zomato, paid ads on banners, Google Adwords and Facebook advertisements. We also use stalls, events and physical modes to market our brand," he said.
Being a computer science engineer, Singh is big on technology as well and said that it plays a big role in driving success for a restaurant business.
Everything has to be technology-driven, I think. So that at one point in time you don't have to be physically present at all the outlets to micromanage everything, he said. For example, getting your cameras, billing, and stock online and analyzing all of this can be done by technology. Getting online and getting remote is very important and technology enables that.