It isn't always easy to break out of the mold but that's exactly what Kanishk Tuteja, founder of 1 Oak Cafe did eight years ago when he graduated. After studying commerce, Tuteja realised that it wasn't really his calling and decided to enter the restaurant business because of his passion for the hospitality industry.
It was the year 2010 when he made a leap of faith without knowing much about the sector by opening a student-focussed cafe in Delhi's bustling Lajpat Nagar market. The joint, called Cafe Smoke, was a relatively small place focussed on catering to "pocket money budget" customers, as Tuteja describes it. While it was a low scale venture, Tuteja managed to get the location right as Lajpat Nagar happens to be an area frequented by a lot of students who became repeat customers.
Kanishk Tuteja Reveals What It Takes to Make a Restaurant Successful
The early struggles of setting up a venture on his own without much backing from anyone soon turned into successes as the business started churning profits which Tuteja banked smartly so that he could use it in the future. Now, he has three properties in India and looking to expand online on the dint of his acquired knowledge about the restaurant business and at the same time, his ability to take risks and curate newer experiences for customers.
Research is the Key to a Successful Restaurant
Talking about his journey, he said that the usual struggles followed him as well such as a lack of money and direction but what hurt more was that he was a newcomer in the industry without much knowledge. He solved this problem by backing himself up with research and networking that allowed him to find the answers he was looking for.
"Journey was very struggling in the initial days. Sourcing, staffing and getting to know how things work was obviously very difficult," Tuteja said.
While Cafe Smoke had a good run of about three and a half years, it had to be shut down because of Delhi government's action against restaurants serving sheesha. After that, Tuteja came up with the idea of 1 Oak, a more elite bar and cafe in Delhi's posh Defence Colony area which is now known for its food, drinks as well as regular music gigs.
Since its opening in 2013, 1 Oak has managed to pull in customers despite more and more restaurants entering the fray. Tuteja believes that the pull factor for him is his product offering which is the food and drinks offered at his restaurants which have superior quality than others.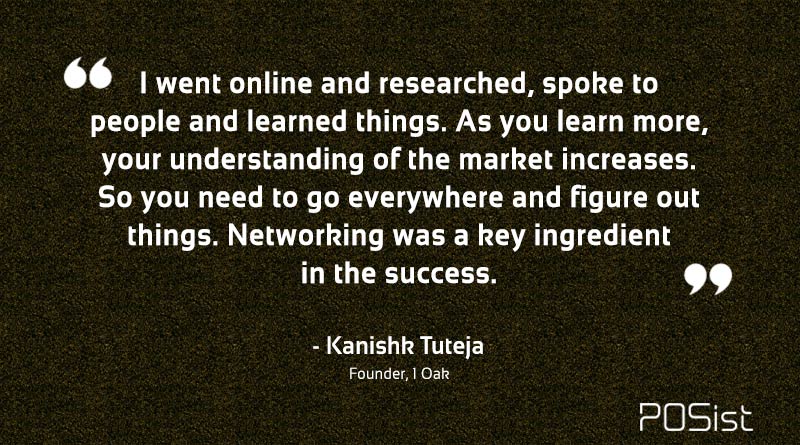 Product Matters the Most When Other Things Don't
"Restaurateurs focus on ambience, the location of the restaurant, fancy things like presentation of dishes and also competition around them. I believe all of this matters but at the end of the day, what gives you success is the product. Your product is the food and drinks that you are serving. If you offer a high-quality product, everything else matters lesser. You should never lose your focus on the product. One thing that worked for us was that we never let the quality drop in our product and service and that made us stand out."
Tuteja's journey, however, didn't stop at 1 Oak and it is unlikely to halt anytime soon. In 2015, he introduced a diametrically opposite experience in the form of a desi restaurant called Nukkad situated in the SDA market near Hauz Khas. While 1 Oak is a more anglicised dining experience, Nukkad has a more earthy feel to it and caters to a completely different audience.
By the middle of January, Tuteja would have expanded his offerings by one more restaurant in the form of Kai in Goa which will be a day-club with a poolside set in the middle of a five-star restaurant in the partying capital of the country.
Asked why he would not stick to the success formula he discovered at first rather than experimenting with such different concepts, Tuteja had a very confident response.
Creating Something New
"My concept is to not replicate my own concepts. I like to diversify and come up with new experiences. I don't want to replicate my success. We are going international very soon," he said.
Expectedly enough, his foremost advice to those contemplating entering the industry is the same. These days customers want to experience new things, try different cuisines and they are willing to pay for it too," Tuteja said, adding that the psyche of Indian consumers has now changed as they look for experiences instead of products.
After eight stellar years in the business, his only gripe is that the regulatory environment isn't supportive enough for the restaurant industry and he hopes that it changes soon.
"We give a lot of employment and taxes as an industry but we don't get the same backing from the government which needs to change. Licensing is too tough, the rules are too difficult to follow, they are not achievable. Rather than the monetary things, the government needs to loosen up the timings to allow them to be open late at night. There should be single window licensing because there are so many licenses that need to be taken to open a single joint," he said.
As the new year dawns, Tuteja said that he will be looking to go international "very soon" but added that his motive of creating a new experience wherever he goes won't change.
"I want to travel, look at markets to markets, see their cultures and adapt their cultures to our restaurant offerings," he said.