Food truck business in the UAE has been around for almost ten years. They are part of a relatively new type of mobile business which caters to customers at various locations. Starting a food truck provides multiple advantages at once, especially pertaining to cost and mobility. Interestingly, the food truck concept has kept evolving throughout the years in the UAE and is easily the future of its food industry. Colourful trucks with decorated exteriors serving niche food items have a lot of potential in terms of generating advertising revenue and tapping new markets.
It is a promising opportunity for new foodpreneurs trying to step into the restaurant business to try out new ideas. For example, testing customer response to unique cuisines and learning how to efficiently sell their product because – what can be better than a portable restaurant? However, food trucks in the UAE can also be a new revenue stream for established restaurant brands in the post-COVID market environment. This article will provide insights on how to run a successful food truck business.
Top Elements To Consider While Setting Up A Food Truck Business In The UAE
Here are some strategies that a restaurateur should follow once he/she starts a food truck and, quite literally, takes it to the road – to success! 
1. Get The Licenses For The First Step 
Getting the food truck and kitchen space licenses is especially important for the new foodpreneurs who are considering opening a new food truck business. Food truck outlets operated by established brands need not get an additional license, but getting a food truck permit is the first step to eliminate legal troubles when it comes to starting from scratch. 
In the UAE, cooking food in a food truck is not acceptable by law, keeping in mind the hygiene and safety norms. Thus, it is essential to get the kitchen and the food truck permit from the respective municipality by first presenting the business plan. For instance, in Dubai, a restaurateur would first send the business plan to the Dubai Department of Economic Development (DED) and the Dubai Municipality and get approvals from both. 
Other approvals include the approval for transportation given by the Roads & Transportation Authority (RTA) and hygiene and safety that is provided by the HACCP (Hazard Analysis Critical Control Point).
2. Look For The Right Commercial Vehicle
The vehicle that you decide to use should be a commercial truck. Both the front-of-the-house and back-of-the-house operations are carried out in the same place in a food truck. Hence, the truck should be big enough to accommodate the kitchen and delivery set up efficiently and advisably be at least 18-feet long. The cost of a commercial food truck in the UAE is usually around $36,758 (AED135,000) for standard-sized trucks, and as for the smaller trucks, it can range from $9,530 (AED35,000) to $16,337 (AED60,000).
The truck can be self-bought or rented out as per the requirements and the budget. Renting out is a better option due to lower up-front costs as they can be further upgraded or replaced with a new one based on the revenue generated in the initial phases. The truck's creative add-ons and exterior paint also play an essential role in making the vehicle 'right' and can be used as a prop to advertise the business.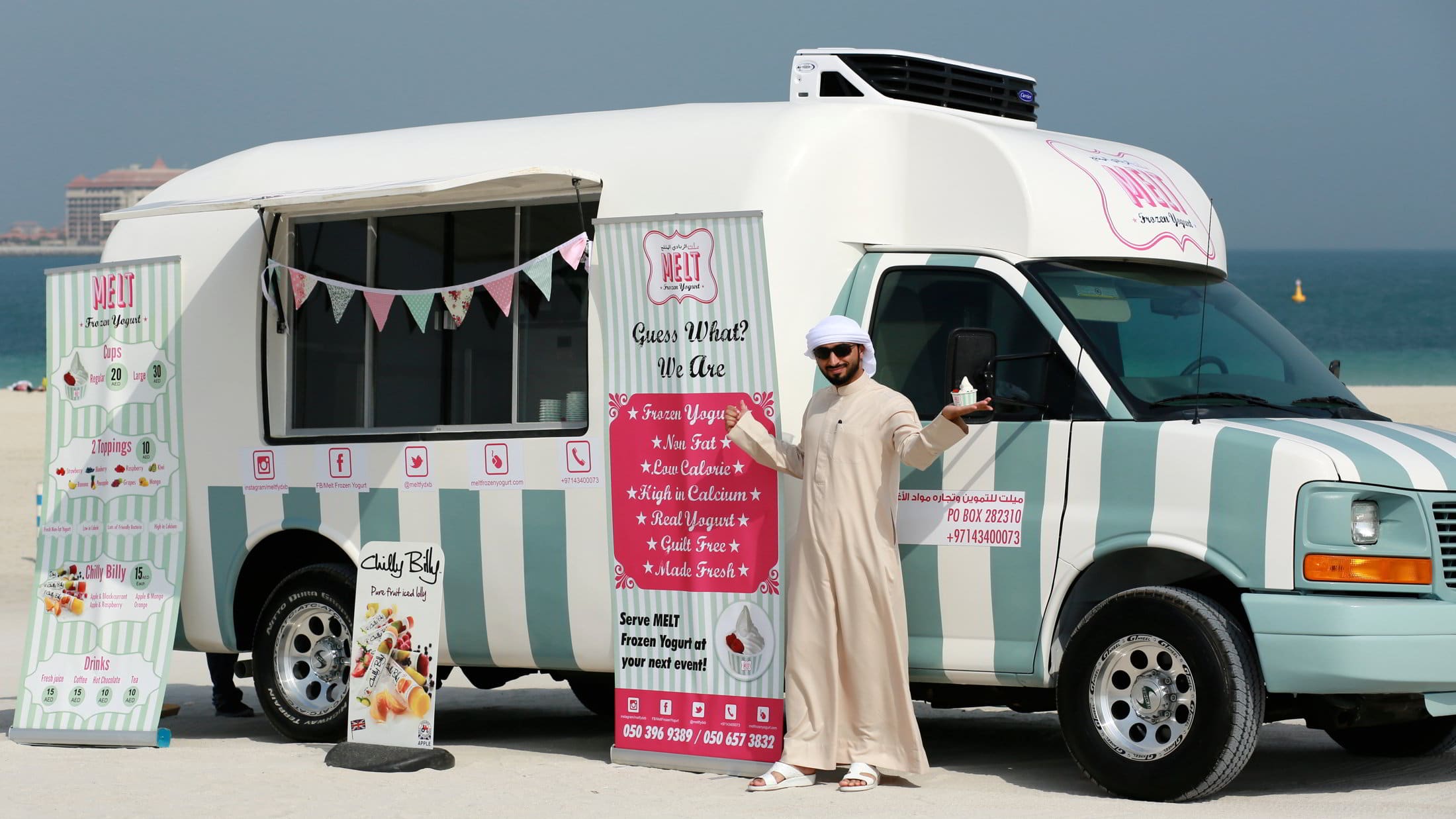 3. Search For The Best Locations
This is the element where the business strategies of the food truck owner are tested. Since your restaurant is on wheels, you have the complete liberty to take it wherever you want. While selecting the best locations for your business, the city you plan to operate in needs to be scanned to identify the most popular and profitable locations for your niche. Spotting the appropriate spot and grabbing it before other food vendors is a must-have skill for the food truck owner. 
One must decide the locations based on several parameters. An ideal location to set up the food truck business in the UAE would be where the cuisine you offer is unique and where there are not many small vendors already doing the business that you are about to start. The food truck should be located at a place that has a strong potential demand from nearby residents or office-goers, the majority of which could be your target customers. It should also not violate zoning laws or obstruct the passing traffic. 
4. Buy Kitchen Apparatus And Raw Materials
After selecting the best possible location, the next step is to stock up the kitchen with the essentials, i.e. the apparatus and raw materials required to cook. Most of the kitchen apparatus, ranging from the food truck itself to freezers, microwave, etc. is available at cheap prices on classified websites like Dubizzle. The basic kitchen apparatus for a food truck business must consist of a microwave, refrigerator, freezer, griller, juicer mixer, utensils, burner, steamer, working tables, exhaust facilities and a good battery backup. 
Initially, raw materials should be purchased for shorter time intervals to notice the sales pattern. Later on, when the menu is stabilized and also based on the success rate of the food truck, the raw materials can be bought in bulk. 
5. Hire Staff
The next step is to hire staff for your food truck business. A food truck should ideally accommodate two chefs, any more than that would overcrowd the food truck and any less might just not be enough to cater to a large number of orders. 
It is also important to keep an appropriate number of delivery boys who can deliver food to customers at their doorsteps and also assist in procuring the raw materials. Besides, these functions can also be carried out with third-party integrations. For example, delivery apps like Roadcast provide efficient delivery services. Procuring raw materials can again be facilitated by having a tie-up with a third-party raw material supplier. 
6. Look For POS Software Or Kiosks
The food truck should be well equipped with an advanced kiosk system or POS software to take orders easily amidst the rush, securely manage the bills & reports, and provide details of the inventory. The POS system or kiosk should be a good fit for your business needs. Kiosks or POS software are critical in the growth phase of a food truck business as they keep the order and deliveries straight, simplify processes for discounts and coupons, manage payments, and track inventory. However, POS software is a better choice than kiosks when it comes to managing restaurant or food truck operations. 
7. Market Your Business
Marketing a food truck business is as essential as setting up one. Some useful marketing strategies are as follows.
Food trucks are not bound to a specified location. Instead, they visit new places from time to time to increase their customer base. In fact,

this mobile feature allows them to participate in public events like food festivals, and social celebrations like marriages, anniversaries, etc

. Participating in local food festivals opens up a whole new customer base. 

Rolling out merchandise like t-shirts or mugs with the brand logo on them to the customers is an efficient way to market your business.

Social media marketing can be an excellent way to popularize the food truck in the seed stage. Further,

you can leverage social media to keep your customers updated about the real-time location of the truck, the menu trends, discounts, etc

. Promoting ads with images of delicious delicacies offered is likely to attract customers. 
Food trucks have been serving their purpose for quite some time now and provide a good return on investment. Keep these tips in mind while starting your new food truck business in the UAE and you'll be good to go!