In the highly competitive Saudi Arabia restaurant space, despite providing excellent food and service, one cannot merely rely on word-of-mouth to gain massive popularity. As the competition among restaurants is exceptionally stiff, they need to do the right marketing to succeed. While offline marketing strategies are necessary for restaurants, it is digital marketing strategies that have become the need of the hour. Restaurant Online marketing includes creating a significant brand presence on online mediums. This article will guide you through the different digital marketing techniques that restaurants in Saudi Arabia must adapt to grow their business.
Digital Marketing Strategies That Restaurants In Saudi Arabia Must Follow
Digital marketing for restaurants is dependent upon many strategies that restaurant marketers must follow carefully. Here are some restaurant digital marketing strategies that you must not ignore:-
1. Social Media Marketing
With over 23 million active users in Saudi Arabia, social media has emerged as a game-changer for restaurant marketing today. It makes more sense to increase social media efforts for the following reasons. 
Customer Engagement
Engaging with customers on social media accounts is an absolute must. Always respond to customer tweets, posts, or comments. Many social media automation tools allow you to manage all your channels from one place. You can also schedule your posts or tweets to maintain consistency in posting content. Digital marketing for restaurants is highly dependent upon visibility. Therefore, marketers must always maintain a reasonable frequency in terms of social media outreach. 
Video Marketing
Video marketing is an innovative form of engaging with customers. Create exciting videos of your restaurant and kitchen and ask your followers to reshare it. Create longer videos for Youtube or Vimeo while making shorter ones for Instagram and Facebook. 
Contests and Campaigns
Consider running interesting contests and campaigns on Facebook, Instagram, or Twitter, such as posting user experience stories, tagging pictures, or do a check-in campaign. This will make your restaurant visible to a broader target audience and get you in touch with potential customers.
Paid Ads
Social media platforms allow businesses to run targeted ads through which they can attract and engage the target demographics. For example, if you are running a fast-food restaurant, you can target the Millenials. 
2. Google My Business Listing 
While forming a digital marketing strategy, you must create a Google My Business listing for your restaurant. Google provides an exclusive mobile listing for restaurants known as 'Local 3 Pack'. It has many benefits:
If you provide a contact number in the GMB Listing, customers can directly call your restaurant.

Customers can quickly locate your restaurant and get driving directions if they wish to visit.

It appears before the search results with a map, thus giving more visibility to your restaurant.

Restaurant owners who have a GMB Listing can easily upload their menu which would be displayed in the listings.
3. Email Marketing
Email marketing is considered as one of the most effective methods of reaching out directly to customers. Once a customer signs up to your newsletter, send them a welcome mail and proceed with sending regular updates and offers. With the help of a robust CRM database, you can reach the targeted customers in an efficient way.
However, email marketing must not revolve around delivering coupons and discounts alone. A monthly newsletter providing useful information about food trends or better living, for example, can be a great way of engaging with your customers. 
Create a resonating personal touch by sending them updates about your restaurant, such as new menu additions, safety measures your restaurant is adopting in the Post Covid-19 era, new outlet launch, etc.
4. SMS Marketing
SMS marketing is an excellent medium for reaching out directly to customers. As text messages have a high open-rate and maximum visibility, sending direct notifications to customers is an excellent method for digital restaurant marketing. 
However, there is a likelihood that your customers might always be bombarded with many promotional SMS and push notifications, and a message from your restaurant may go unread. That is why, marketers must be adept at writing short, clear, and catchy messages to quickly grab the customer's attention. 
It is recommended to end your message with a Call to Action, such as Order Now, or Try our new menu item, Book Your Table Now, that either includes a direct link or a contact number to complete that action. You can also send offers, discounts, feedback forms, or update your customers about a new menu item.
With the help of your CRM database, track which customers haven't dined at or ordered from your restaurant in a while, and send them a 'We Miss You' message along with a discount coupon. SMSs are also helpful for fulfilling delivery orders. You can keep your customers updated on the status of their orders by sending them  Track Your Order links or similar updates.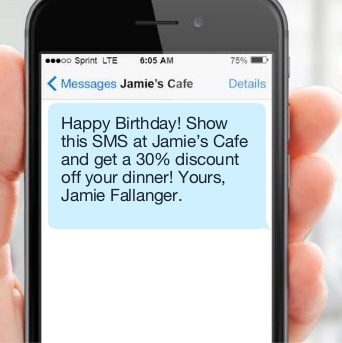 5. Online Listings And Review Sites
Online listing and review sites have gained massive popularity among the masses. As restaurants are listed according to the location and services they provide, it becomes easier for customers to choose the destination to order from. Therefore, having a presence on sites such as TripAdvisor, Zomato, Yelp, etc. is a must.
Add complete details of your restaurant such as the address, contact details, updated menu, and resplendent photos to attract customers on these sites. These sites also allow patrons to tell others about their dining experience by sharing reviews. As customers often refer to these sites before choosing a restaurant, operators must read all the reviews, and quickly address the negative ones.
6. Functional And Updated Website
Digital marketing for restaurants is incomplete without a functional and updated restaurant website. Ensure that your restaurant website is mobile optimized and SEO friendly. 
An ideal restaurant website must cover the following :
A theme page that reflects your restaurant brand.

A menu page that lists all your food items and prices.

Gallery page that showcases the interior and décor of your dine-in restaurant.

An 'About Us' page that highlights your restaurant's offerings, history, and culture.

A direct link to the feedback form where customers can share their experience. Apart from gathering feedback, having a feedback form will provide the right opportunity for your brand to grow and would work as a great marketing tool. 

A Call-to-Action button on your navigation page with an

order online widget

that streamlines placing orders online.  
By taking the right digital marketing measures, you can market your restaurant well and win more customers. Include these practical digital marketing tips in your restaurant marketing plan, and let us know in the comments below how they worked out for you!