Cloud kitchens have become a new trend in the past few years. While it does not take much to start a cloud kitchen, one must realize that there are possibilities that your venture might turn into a complete failure. To avoid any such instances, you must know what all are the necessary prerequisites that you must do, which will help you to increase the sales of your cloud kitchen and make sure that your restaurant blossoms.
A Brief About Cloud Kitchen
First things first, you need to know what a cloud kitchen restaurant is. A Cloud Kitchen, or a Delivery Kitchen, is a restaurant where there is no physical outlet, and the food is prepared for all sorts of deliveries. There can be several brands or restaurants operating in the same outlet. In a cloud kitchen, the number of restaurants serving can be more than one. For example, if a restaurateur who owns a delivery kitchen specializing in Chinese Cuisine decides that he should start delivering Mexican food as well, he can create a different brand under the same parent company. Instead of adding Mexican to the current menu, he can operate a different brand that sells Mexican from the same delivery kitchen.
To know more regarding what cloud kitchens are and how they operate, read Cloud Kitchen Restaurants Decoded: All You Need to Know About Cloud & Delivery Kitchens.
Tips To Boost The Sales Of Cloud Kitchen 
While cloud kitchens are a very lucrative domain to venture into, you can very quickly make a few blunders that will lead to the downfall of your business. To avoid any mishappenings, you should follow these quick tips, which will help you to attract and retain more customers.
1. Advertise Well 
Let's state the fact that a cloud kitchen is a small format and can be easily overlooked by the people of the vicinity. Hence, unless you advertise well enough, there are chances that people will not even be aware that you have started this fantastic kitchen of yours. The ways in which you can advertise your restaurant  are:
Distribute flyers and pamphlets:

Hire someone who would distribute these to the passerby in your area. You can also collaborate with the people who distribute newspapers in your vicinity and get these flyers to find their way into the dining room of the houses of your locality.

Take part in events:

If any

food festivals

happening in your city,  set up a stall there and let people taste your food and spread the news of your arrival through word of mouth
Catering in events can help you catch the attention of many:

Catering at local organizations' events will help you to come into the limelight. Be these events be anything, from

Independence day celebration in your locality,  a local sports event, to school carnival, if you can provide some tantalizing food to the enthusiasts

in these events, they will surely come back to you.

Social Media Presence is a must:

In today's time, if you want to get in touch with all the potential customers out there, you must have a strong social media presence.

Create your social media pages, and post mouth-watering images and videos of your food items.

2. Offer Something Unique
Since restaurants are cropping up like swarms of locusts everywhere, you must provide your customers with something that others in your area are not. Select a cuisine that is new to the locals of your vicinity. For example, if there isn't any place satiating the taste buds of your customers with some mouth-watering Northeastern cuisine, then you can try and introduce this cuisine to the people. Unless you can offer people something out of the box, why do you think people will choose your cloud kitchen over other restaurants?
3. Do Not Compromise On Quality
While quality remains one of the main things that helps you retain your customers, it is needless to say, that its importance is even more in a cloud kitchen. This is because, since it is a cloud kitchen, people generally expect home-cooked food, whose quality is exceptionally high. Unless you can make your customers feel that they are eating from their own kitchen, you can hardly expect them to come back to you.
4. Integrate With Online Delivery Platforms
Delivery is the main thing in a cloud kitchen; hence it is very important for you to have the right personnel in place. Instead of just relying on your in-house delivery boys, integrate your cloud kitchen with the various online delivery platforms. This will not only help you to get a better online presence and make you more credible but will also help you to come right in front of all your potential customers who might be hovering on these platforms like Zomato, Swiggy to quench their hunger.
Moreover, delegating the task of delivering your food to the doorsteps of your customers to these delivery agencies will reduce the wastage of a lot of your energy and resources, which you can then use to bolster your cloud kitchen further. Here are some Quick Tips to Master the Online Ordering and Delivery System of Your Restaurant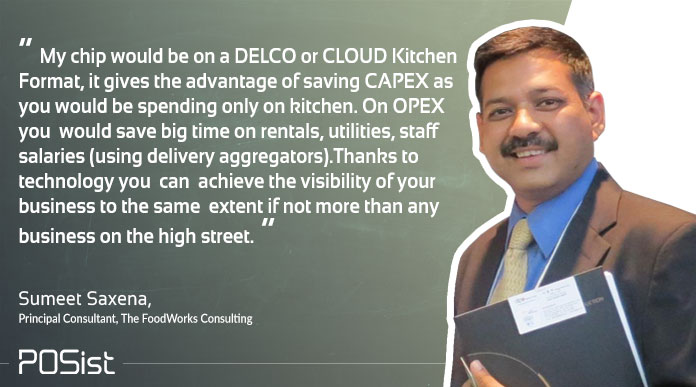 The growth of the cloud kitchen has been commendable. As per some reports, since 2015, the online food sector has seen the launch of over 54 food delivery startups, attracting over $236 million in venture capital from Indian and global investors.  This clearly shows that the cloud kitchen format is on a steady rise. The model is expected to be a significant factor in augmenting online delivery even more.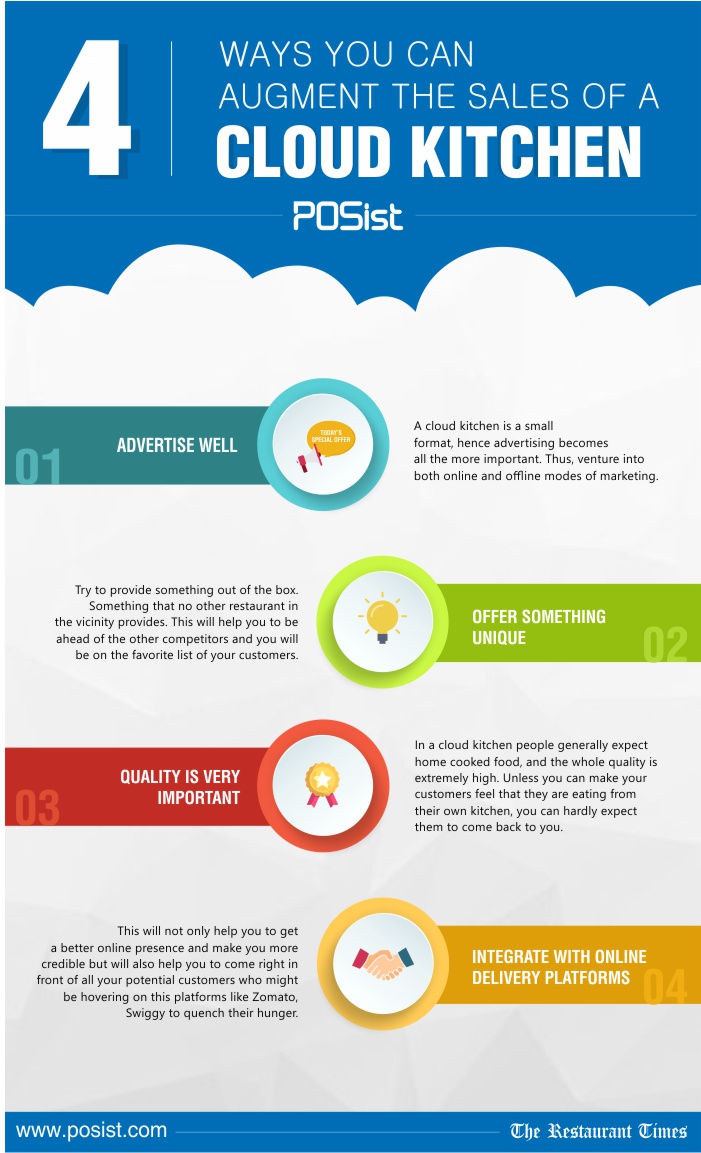 We hope that you have gained comprehensive knowledge about how you can bolster the sales of your cloud kitchen. While all you need to do and focus on isn't much, but there are a few intricacies which if you give heed to can help you to pave a very prosperous future for your cloud kitchen.