The most successful restaurants have extremely efficient supply chain operations. They achieve this efficiency through the use of technology designed to solve the operating and growth challenges of restaurants.
Despite significant advancements in supply chain technology in recent years, most restaurateurs and their vendors / supplies are still not connected with a unified view of supply and demand. When this supply-demand of a restaurant is out of sync, it leads to losses at various levels. Kitchen waste, unconfirmed supply of resources, and ultimately broken customer service are the result of the restaurant's suboptimal supply chain.
The fastest growing restaurants have designed their supply chains in ways that can address the following important factors:
Manage inventory based on changing customer demands
Make informed forecasts based on past data and new trends

Eliminate "demand blind spots" by using data from your embedded POS
Supply chain management is critical to the restaurant industry primarily because to run a successful restaurant there are several moving parts in the kitchen, dining room, order taking, billing, and various backend processes that form the backbone of a thriving restaurant. The most successful restaurants have a common reason: their customers love the food and the overall experience. The backend that makes everything happen is the technology that allows the restaurateur to manage supply and demand efficiently.
In this article, we cover the following:
A glossary of supply chain operations in the restaurant industry.

What are the problems in managing operations in the restaurant industry?

How to simplify supply chain operations with the use of technology?
As a restaurant grows, the supply chain becomes more complicated. This complexity has raised the need for greater visibility into the overall supply chain process.
Many restaurant owners are unable to understand this complexity. Therefore, this article captures the problems restaurants face in maintaining consistency across all levels of supply chain operations. We also discuss how technology streamlines the entire supply chain process for restaurants.
The 5 essential elements of the supply chain in the restaurant industry
Demand Awareness / Forecasting:

The restaurant supply chain cycle begins with a deep understanding of demand forecasting.

This gives you a holistic view of the restaurant to evolve your offers and menu according to customer demand.

Vendor management:

In the restaurant business, you need to find the right vendors to maintain quality and efficiency.

Additionally, it is important to use technology that helps onboard and manage vendors based on quality and efficiency.

Purchase order management:

For restaurant chains with multiple points of sale, depending on different consumer habits, order replenishment also varies.

One branch may require a different raw material than the other, or there may be a difference in quantities.

Inventory management:

One of the main causes of consumer dissatisfaction is when there is a crisis of "lack of reserves".

To avoid mismanagement, restaurants keep a sufficient quantity of all items or raw materials necessary for food preparation.

An efficient supply chain operation ensures minimal loss / waste.

Consumption and variance management:

For a restaurant, it is essential to understand how much inventory is required for meal preparation and what the actual consumption is.

The variance compares the physical reserve (current counted inventory) with the reserve (volume of the reserve that should be present).

Consumption management is vital to understanding whether restaurant staff maintain a set of standards for food preparation.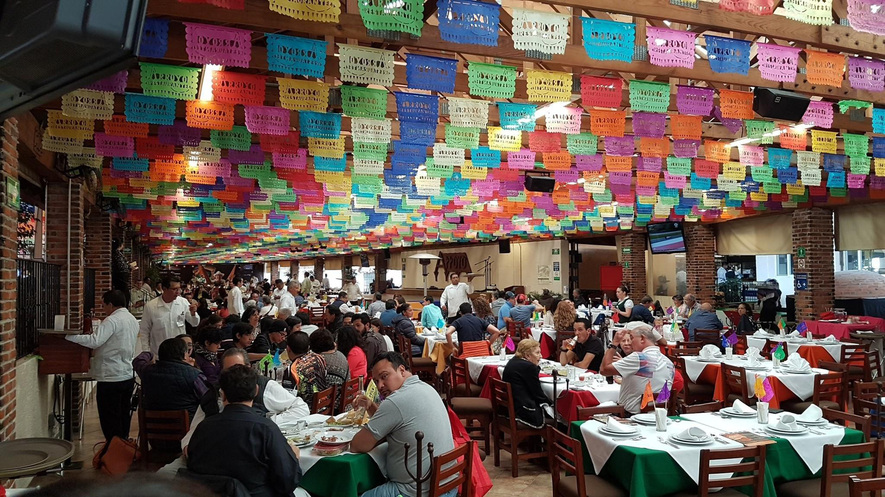 How is technology solving supply chain complexities for the restaurant industry?

Common problems and solutions
Gestionar las operaciones de la cadena de suministro en los restaurantes es un proceso que requiere sincronización entre la demanda y la oferta. La trazabilidad y la transparencia son más importantes. La tecnología conduce a una mejor visibilidad en toda la cadena de suministro, dirigiendo una comprensión más amplia de los procesos. Conecta a todos los socios asociados involucrados en el proceso en una única plataforma. Un solo clic puede proporcionar todos los detalles necesarios de todo el ciclo de pedido.
A continuación, discutimos los problemas comunes en los procesos de la cadena de suministro y las soluciones que brinda la tecnología:
Previsión
La previsión o detección de la demanda es un paso fundamental en todo el ciclo de las operaciones de la cadena de suministro de los restaurantes.
Para entender esto, tomemos el ejemplo de una cadena de restaurantes donde el Producto X ha observado las mayores ventas. Sin embargo, el Producto Y ha sido el artículo menos vendido en todo el menú.
A pesar de los esfuerzos de marketing, el producto Y no funcionó bien en el mercado. Debido a las condiciones del mercado, la venta del Producto X también se redujo debido a la escasez de oferta. Como resultado, las ventas generales del restaurante se vieron afectadas.
Esto resultó en un desperdicio de existencias que generó mayores pérdidas que llevaron a recortes de costos en varias operaciones, lo que finalmente afectó las relaciones con los proveedores.
Simplificación de la previsión con tecnología: previsión automatizada a través de la sucursal del restaurante
Un módulo de pronóstico automatizado proporciona la proyección del volumen de ventas futuro sobre la base de los patrones de consumo de los clientes. Con base en la reserva física disponible en la cocina y la venta por artículo de cada sucursal, es fácil estimar los requisitos de inventario. Los sistemas de detección de demanda generan pronósticos tanto en el menú como en los artículos de materias primas. Los restauradores pueden crear ofertas en elementos de menú específicos para cada sucursal. Una estimación proporcionada de los inventarios también elimina los problemas relacionados con el envejecimiento de las materias primas.
Gestión de proveedores 
La gestión de proveedores es fundamental para la operación de un restaurante de cualquier escala y tamaño. Ya sea que se trate de una cena fina, una cadena QSR o una operación de nivel empresarial, es esencial integrar proveedores-socios y rastrearlos a través de la tecnología.
Una mala gestión de los proveedores puede provocar:
Escasez de materias primas suministradas por los vendedores a un restaurante.

Deterioro de la calidad de los ingredientes debido a malas condiciones de almacenamiento.

Fallo en el envío o retraso en la entrega puntual de los pedidos.

Altos costos fijos debido a las condiciones económicas.
The acquisition of goods and services is managed through support and comprehensive management between suppliers and those responsible for the supply chain. Lack of proper supplier management results in poor quality delivery from the kitchen.
Simplification of supplier management with technology: centralized supplier management through the restaurant's point of sale
A centralized dashboard to keep records of all vendors mitigates the risk posed by missing information. Tracking important information like invoice details, contract details, order details, and delivery details becomes easy. Restaurants can keep track of inventory received from various suppliers centrally
It is possible to manage the variation of prices of different providers from a panel. A proper supplier management system initiates a feedback loop between the purchasing department and the suppliers.
Purchase order management
Let's say there is a restaurant chain with two locations that is increasing the purchase order based on average requirements. You are distributing the inventory equally to everyone. Shortly after an order is delivered, one branch is known to be running out of inventory, the second has excessive inventory with no warehousing facilities. The restaurant chain also faces the problem of missing or receiving the wrong item.
The occurrence of this situation indicates that the inventory requirements of each branch were not analyzed.
Simplified purchase order management with technology – Analyze stock requirements at the branch level through the restaurant point of sale
With the technology in place, a restaurant can track and analyze purchase order needs in relation to sales. Restaurateurs can view and analyze the stock requirements of each establishment. Depending on the requirements of each branch, purchase orders can be created and sent directly to suppliers. Restaurants have detailed information on consumption that also helps them plan their delivery. All details related to the order are controlled, such as order status, items purchased and accounts receivable. Therefore, the restaurant can keep track of its inventory. Standard quality is maintained with an equitable distribution of inventory. All this at predefined costs.
Inventory management
Inspecting, controlling, and tracking inventory is an integral part of restaurant supply chain management.
Manual interventions in inventory management are time consuming and ineffective. It is a challenge to manage the circulation of raw materials. Inventory is perishable and no FIFO mechanism results in waste. Analyzing the global sales of all points of sale without an automated solution also results in uneven stock distribution. Poor inventory management results in cash flow problems.
Simplify inventory management with technology: real-time inventory tracking through the restaurant point of sale
An automated module allows real-time inventory tracking, which detects any discrepancies related to the use or consumption of raw materials. Restaurateurs can understand the stock requirements of each branch and ensure consistency remains consistent. An inventory management system also minimizes perishable inventory waste by calculating the shelf life of items and also the number of days until the stock will last. Reduce food costs by standardizing the recipe centrally.
Consumption management
To understand the importance of Consumption Management, suppose the scenario of a restaurant chain.
The head chef of the restaurant chain has set a uniform standard for the preparation of the dish, which requires a specific consumption of raw materials. Before replenishment, the numerical comparison between the ideal stock and the actual physical stock does not match, indicating waste or theft.
Understanding raw material and inventory consumption levels sets a record for restaurateurs to monitor whether the restaurant is following standard guidelines.
Simplifying consumption management with technology: reducing waste and theft through restaurant POS
The implementation of technological solutions in consumption management helps the restaurant to identify gaps in the use of inventory. When a restaurant enters the actual raw material consumption data that staff must maintain, the system automatically displays the ideal stock consumption. Alert product managers to the potential for overuse, waste, or theft. A detailed descriptive structure of recipes also reduces unnecessary use of raw materials, reducing overall food costs.
How convenient would it be to track your entire restaurant order cycle on a single screen? With the help of technology, this is how some of the largest restaurant chains approach the complexities of your supply chain.
Below is the list of critical questions a restaurateur should consider to ensure that supply chain operations scale with business growth:
As a restaurant, do we have the strategy to ensure our supply chain grows alongside our expansion plans?

Are we using technology to establish scalable and reliable processes, or do we rely on luck and human effort which has a much higher probability of error?

Have we learned from our peers and successful restaurateurs in our space about how they have structured supply chain operations with technology to accommodate their scale?
The future is clear for growing restaurants. It is the technology backend that will define how efficiently the restaurant runs its backend and how it delivers an incredible experience for customers.